Invenergy Blog: November 16, 2022
Invenergy Veterans Spotlight: Kali Turner, Lead Field Services Blade Technician, 3rd Party Field Services
As we celebrate National Veterans and Military Families Month this November, Invenergy offers our appreciation to our veterans for their service to the country and for the expertise and dedication they bring to our company and the clean energy field.​​​​​​​
Approximately 9 percent of Invenergy U.S. employees are military veterans, spanning from the staff at our Chicago headquarters to the technicians and plant managers working across our fleet. We are grateful to work alongside our veterans to build a more sustainable world and proud to highlight their stories throughout this November.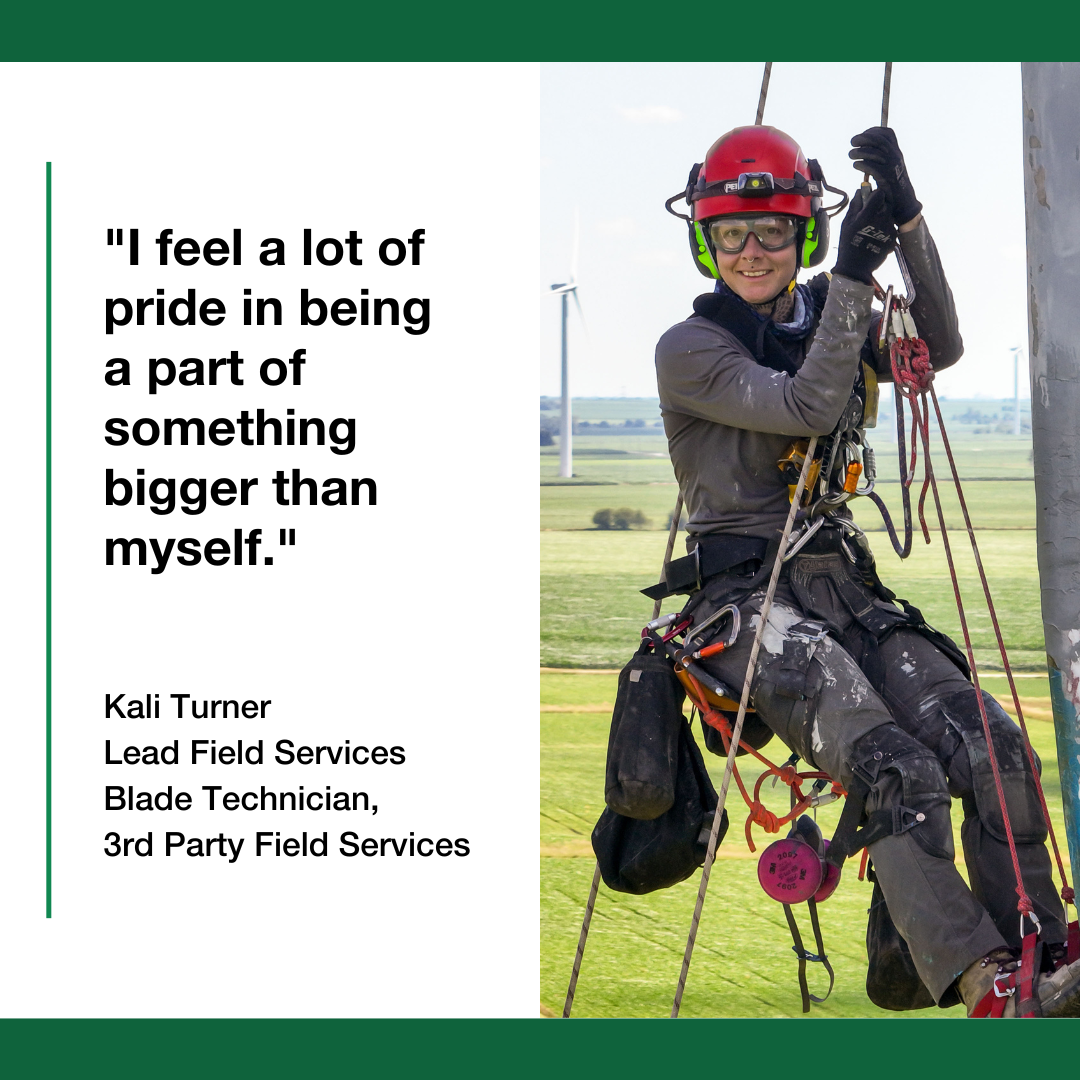 How long have you been at Invenergy and what is your current role?
I have been working for Invenergy for 2 years. My current role is a Lead blade technician for the Blade repair team. Here I work with both our team members and managers to create a successful workflow. Our job is reached through rope access doing fiberglass repair on turbines.
Please provide details about your service including your branch, rank/title, job, how long, when, and where you served.
I was in the Army for a little over 2 years, and my job within the military was Military police. I was living in Baumholder, Germany during that time. My rank was E-4, Specialist, serving as a team leader for my company. I decided to leave the military early when finding out I was having my daughter.
What motivated you to join the military?
I was living in Tampa, FL, at the time, where I was born and raised, and I wanted to experience the world around me. Unsure how to do that sustainably, I decided to join the military. I knew that this would give me an opportunity to go to places, meet people and have experiences I wouldn't have otherwise. I was in a JROTC program in high school, so the idea of being in the military was not far from an idea of options for me.
How did your military experience prepare you for your job now?
The military provided me with discipline and gave me a good foundation on how to become a good leader. Being an MP in the military meant that my job was pretty diverse. Training not only looked like standard police training but also, we trained for combat situations for when the time came to be deployed. I was able to build confidence as a young adult through multiple skills that were taught along the way. It gave me the ability to be able to push through adverse situations, which are things that we still experience in civilian jobs.
What do you think veterans will get out of working in the clean energy industry?
A sense of pride. A lot of military members strongly believe in what they are doing for the country and with that comes pride in their actions. I know personally, since being a part of a team that is involved in clean energy, I feel a lot of pride in being a part of something bigger than myself. Being a part of a green, forward-thinking company that's trying to make change for the world motivates and inspires me.​​​​​​​
What does Veterans Day mean to you?
Veterans Day is a day to thank the people that made the decision to do something greater than themselves. They sacrificed time and energy for something they believed to be worth all the struggles they will endure. The military gave me an opportunity to understand and be grateful for the people standing next to me. These were my team members, we would hold each other up, carry one another when we just couldn't anymore and share the triumphs and struggles together.