Invenergy Blog: May 17, 2022
Interviews with Innovators: Project Manager Jonathan Carroll and an Award-Winning Plan for a Portable Hydrogen Generator
Invenergy has become an industry leader over the past twenty years thanks to our versatile teams full of innovative thinkers, subject matter experts, and industry veterans. Invenergy employees continue to impress with their professional accomplishments and dedication to making the world a better and more sustainable place.
Jonathan Carroll, Assistant Project Manager, Renewable Project Management at Invenergy was recently recognized by the University College London (UCL) for his accomplishments while obtaining his Master of Science degree in Power Systems Engineering.
Jonathan was awarded two prizes for his outstanding achievements. His first award, the Departmental Best Prize, is granted to students with the best overall performance in the program. His second award, the IMarEST Best Project Prize, is granted to students who submit the overall best thesis. Jonathan's finished thesis is titled "Design of a Containerized Power Plant for Disaster Relief Using Renewable Resources and Hydrogen Fuel Cells."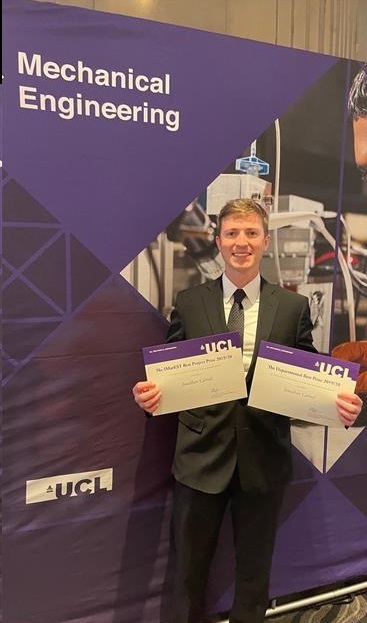 As the title of his thesis suggests, Jonathan's project explored how hydrogen fuel cells and renewable power sources can be used to develop sustainable, portable power plants. Jonathan submitted a design for a 15-kilowatt (kW) containerized power plant that consists of solar, wind, fuel cell, and battery storage technologies. The entire system is transported within a 20-foot shipping container and requires minimal tools and equipment for assembly.
"I wanted to apply the technological advancements we have today in renewable energy towards humanitarian efforts," Jonathan says. "Often, places that are affected by natural disasters or war do not have reliable power infrastructure after or during the event. One of these containers could be airdropped in and provide much-needed power for shelters or field hospitals."
Other portable power plant solutions that exist today rely on the use of generators which often require diesel fuel. However, there is a high risk of diesel shortages in disaster areas due to supply chain disruptions. The hydrogen fuel cells in Jonathan's proposed design replace diesel generators as a viable solution due to their high power density. Additionally, the variety of renewable sources used in the power unit, such as wind, solar, and battery storage, make the power plant viable in a variety of climates and conditions.
While the containerized power plant has not yet been built, Jonathan designed a full model of the power plant in his thesis, including technical specifications and mathematical validation. All components used within the design are commercially available for immediate use.
Jonathan obtained his undergraduate degree in Mechanical Engineering from Georgia Tech in 2016. In 2018, he moved with his wife to London and took a job with an energy developer in the UK. Soon after, he enrolled in the Power System Engineering graduate program at UCL. After finishing the program and moving back to the US he joined Invenergy and has been supporting Invenergy's construction projects.
Jonathan said working on his graduate thesis provided an opportunity to dive into work that wasn't limited to one technology. He currently works on Invenergy's battery storage team and is excited to continue exploring cutting-edge power generation ideas.
"It was really exciting winning the awards and going back to London this year to accept them," Jonathan says. "I have been able to create some interesting opportunities for myself thanks to the work I did at UCL."
To learn more about where and how you can put your experience to work for Invenergy, be sure to follow Invenergy on LinkedIn for more information about careers at Invenergy.