The 160-megawatt Southern Oak Solar Energy Center is Invenergy's largest solar project to date and 100 project to reach commercial operations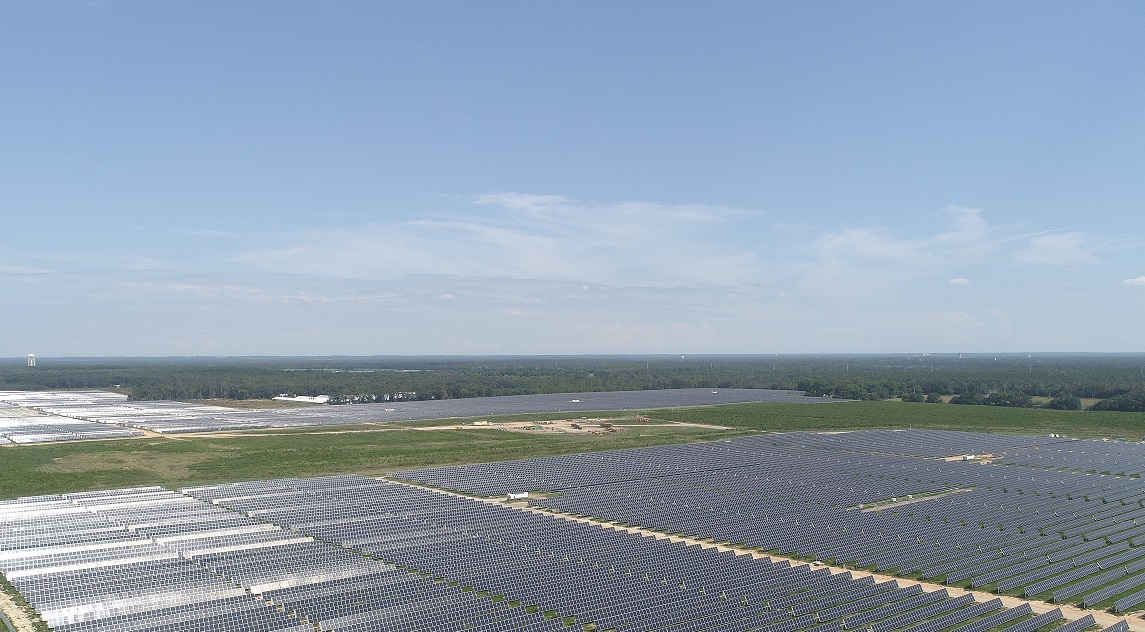 CHICAGO (April 30, 2020) – Invenergy, a leading privately-held global developer and operator of sustainable energy solutions, announced the start of commercial operations at its 100 project to achieve this milestone and its largest solar project to date. The 160-megawatt Southern Oak Solar Energy Center, located in Mitchell County, Georgia, just northwest of the town of Camilla, began commercial operations in the first quarter of this year.
Building began in 2018, and the project employed over 400 workers at peak construction. In its first 10 years of operation alone, Southern Oak will generate more than $12 million in local economic development through agreements for tax payments and lease payments to participating landowners, as well as wages and benefits for employees.
"The start of commercial operations at Southern Oak is an incredible achievement for Invenergy as we celebrate not only our largest solar project, but also our 100th project to come online," said Bryan Schueler, Invenergy's Executive Vice President and Chief Development Officer. "We are proud to have delivered on our promise to invest in the local economy and create jobs while leveraging our expertise to support Georgia Power in its efforts to increase solar development in Georgia."
"Southern Oak has been a huge win for our community, bringing both short- and long-term economic investment to Mitchell County," said Paige Gilchrist, Executive Director of the Mitchell County Development Authority. "Construction of the project has been a huge boost to local retailers, and the project will provide tax dollars for many years to come."
Southern Oak is Invenergy's second project to deploy bifacial solar panels. Invenergy developed and constructed the 74-megawatt Wilkinson Solar project in North Carolina, which began commercial operations near the end of 2019 and was the company's first project to use bifacial solar panels. The cutting-edge technology increases efficiency by capturing additional sunlight within the same project footprint.
Renewable Energy Systems (RES), a global company that provides engineering and construction services for wind, solar, transmission and energy storage projects, constructed the project.
"Southern Oak marks RES' first solar project with Invenergy, serving as a tremendous opportunity to partner in advancing the growth of solar power in Georgia and creating more skilled employment in Mitchell County," said Tim Jordan, Senior Vice President of Construction at RES. "This project demonstrates another step change in the advancement of utility-scale solar plant efficiency, and we are very proud to have played a key role."
Invenergy Services is operating the solar facility, adding to its 10-gigawatt global sustainable energy project portfolio. Invenergy will maintain ownership of Southern Oak and is under a 30-year contract to sell 100% of the energy and renewable attributes from the facility to Georgia Power through the Renewable Energy Development Initiative (REDI) program.
About Invenergy
We are innovators building a sustainable world. Invenergy and its affiliated companies develop, own, and operate large-scale sustainable energy generation and storage facilities in the Americas, Europe and Asia. Invenergy's home office is located in Chicago, and it has regional development offices in the United States, Canada, Mexico, Colombia, Japan, Poland and Scotland. Invenergy has successfully developed more than 24,500 megawatts of projects that are in operation, construction or contracted, including wind, solar, and natural gas power generation facilities as well as advanced energy storage projects. For more information, please visit
www.invenergy.com
.
# # #
Contact Invenergy:
Donya Mansoubi, Manager, Communications