Award represents third AWEA Excellence in Operations recognition for O&M industry leader Invenergy Services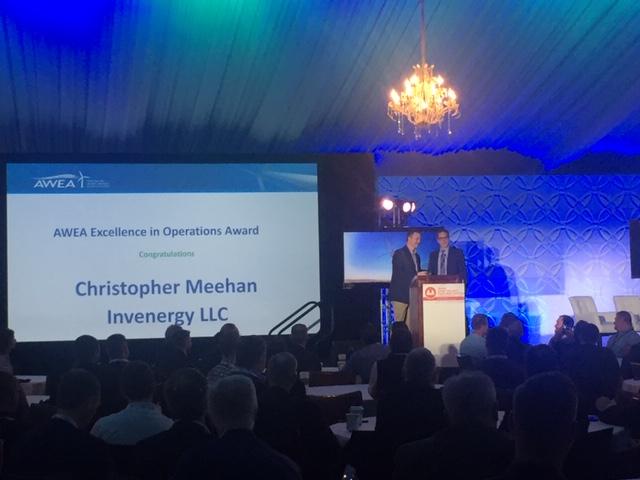 Chris Meehan, VP, Wind Operations, Invenergy Services, accepts award at AWEA's O&M and
Safety Conference in San Diego
CHICAGO (March 6, 2019) – Invenergy, a leading U.S.-based privately-held global developer and operator of sustainable energy solutions, today announced that Chris Meehan, Vice President of Wind Operations,
,
has received the American Wind Energy Association's (AWEA) 2019 Excellence in Operations Award. The award distinguishes an individual or company for excellence in efficiency and effective operations of its wind projects and for constructive collaboration with others in the industry to improve the quality of O&M services.
Meehan accepted the award at AWEA's O&M and Safety Conference in San Diego. This is Invenergy's third Excellence in Operations Award recognition, in addition to 2017 and 2011.
"Invenergy Services keeps a constant focus on safety while operating and maintaining complex systems and technologies every single day, and we take great pride in the successful operations of our managed fleet," said Alex George, Invenergy's Senior Vice President of Operations and Asset Management. "We thank AWEA for their partnership and recognition of Chris Meehan and the great work of our teams in the field."
"Chris Meehan was nominated and selected by his industry peers for always prioritizing safety and exemplifying operations best practices," said Tom Vinson, Vice President of Policy and Regulatory Affairs at AWEA. "He helped create a culture of engagement among managers and technicians at Invenergy projects to ensure safety always comes first and employees are empowered to address workplace safety concerns. He is a true champion of operations and safety excellence."
This award comes within a week of Invenergy Services' announcement to expand its offerings to third-party sustainable energy asset owners, after more than 15 years of successfully operating Invenergy-owned and Invenergy-developed projects. Invenergy Services' O&M teams are on-site, full-time staff, and collaborate closely with control center operators, engineers, asset managers and other specialists. With a production-based wind turbine availability that significantly exceeds DNV-GL's industry projections, Invenergy Services has deep knowledge of technology, equipment and procedures to ensure a high level of safety and performance.
To learn more, visit
or download the
.
About Invenergy
We are innovators building a sustainable world. Invenergy and its affiliated companies develop, own, and operate large-scale sustainable energy generation and storage facilities in the Americas, Europe and Asia. Invenergy's home office is located in Chicago, and it has regional development offices in the United States, Canada, Mexico, Japan, Poland and Scotland.
Invenergy has successfully developed more than 22,000 megawatts of projects that are in operation, construction or contracted, including wind, solar, and natural gas power generation facilities as well as advanced energy storage projects. Learn about Invenergy's commitment to social, environmental, and economic sustainability at:
About Invenergy Services
Invenergy Services provides sustainable energy asset owners end-to-end solutions for every aspect of asset management, operations and performance analysis. Invenergy Services currently manages 10,000 megawatts of wind, solar, natural gas and battery storage facilities, including 2,800 megawatts owned by third-parties. With on-site technicians, a state-of-the-art 24/7 Invenergy Control Center, and a progressive safety culture, Invenergy Services helps customers operate with excellence. Learn more at:
# # #
Contact Invenergy:
Donya Mansoubi, Senior Associate, Communications