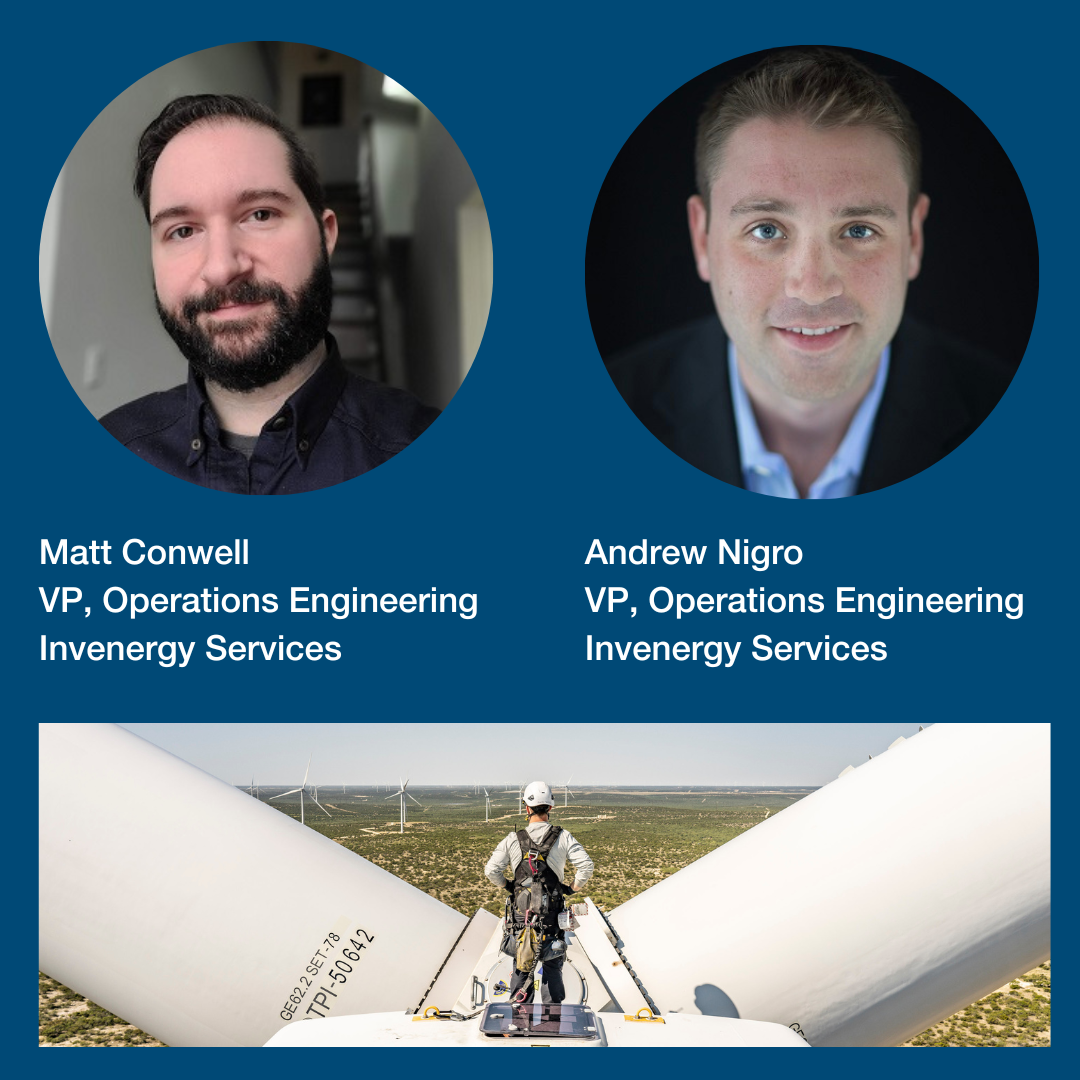 Operating and maintaining a fleet of more than 100 clean energy facilities requires a dedicated team working diligently behind the scenes so Invenergy can continue delivering clean energy where it's needed. That's where our Operations Engineering team comes in. Andrew Nigro and Matt Conwell, Invenergy Vice Presidents, Operations Engineering, oversee this robust team which comprises everyone from electrical and mechanical engineers to data analysis experts and control room operators. Despite the nuanced yet comprehensive responsibilities of this team, Nigro says their work shares one simple goal: ensuring the safety, reliability, and high performance of Invenergy Services' operating fleet.
Below, Conwell and Nigro talk more about what their team does, what it's like working at Invenergy and why they enjoy working in the clean energy industry.
Q: You two oversee different groups within the Operations Engineering team. Tell us more about the differences between your groups.
Andrew Nigro: I lead three groups within this team: Electrical Engineering, Supervisory Control and Data Acquisition (SCADA), and Control Room Operations. The Electrical Engineering team has a wide range of responsibilities, including maintaining wind and solar assets, high-voltage equipment, batteries, and more.
Our SCADA team has four main responsibilities: field data collection, OEM SCADA, instrumentation and controls, and generation management systems.
And, lastly, the Control Center is the heart of our operations, so this team is doing anything from troubleshooting issues with turbines, resetting turbines and inverters, communicating with transmission authorities and ensuring compliance with state and regulatory agencies.
Matt Conwell: I oversee three teams as well. The first is our Mechanical Engineering group. That group includes the subject matter experts on the componentry of our assets, from gearboxes and bearings experts to lubrication and generator and blade experts.
Next is the Availability Engineering team, whom we refer to as the technical generalists. While the members of our Mechanical Engineering group are experts on specific components across our fleet, the Availability Engineering team members are the Jacks and Jills of all trades.
Then my third group is the Performance Analytics team, which is responsible for tracking and analyzing any of the data that's associated with our assets.
Q: With all of that happening every day, what do you each find most interesting about working at Invenergy?
MC: I like that we're able to see the full lifecycle of a project, all the way from construction until a project is decommissioned. And because of the size and scope of our fleet, we're addressing a wide range of problems on a day-to-day basis. So there are always interesting challenges to solve, and as an engineer, I find that appealing.
AN: Because Invenergy has so many different technologies within our clean energy portfolio, it gives everyone an opportunity to learn something new. Say someone works on wind assets for a few years, but then decides they're interested in solar or energy storage, they're able to switch. There are so many opportunities to work on different things at Invenergy. We also give individuals a lot of opportunities to make decisions and find the right path forward for the company.
MC: Yeah, Invenergy is definitely a collaborative organization. I've had people tell me that it's refreshing how much the engineering team works with other departments rather than being siloed away.
Q: For anyone who is thinking about transitioning to a career in the clean energy industry, what can they expect?
MC: Renewables is a tight-knit industry. The space is growing so quickly that there's room for everyone to find their niche and become an expert in their field in a way that not only supports Invenergy, but the industry as a whole. We work quite a bit with trade groups, the National Lab system, and other organizations that bring many companies together to solve industry-wide issues.
AN: When we go to a conference or a trade show, people are very open about discussing their challenges. We're all trying to succeed, and it's nice to see that it's not necessarily a me-versus-you environment.
Q: Do you have any advice for someone interested in joining Invenergy's Operations Engineering team?
AN: The best advice I could give is to just apply for the job you're interested in. We have people on our team with a wide variety of backgrounds, people from different countries or people who didn't start their careers as engineers. I wouldn't get hung up on not feeling qualified for a position. I think the traits we look for in someone are confidence, the ability to learn, somebody who's driven to grow and ask questions, and someone who's interested in the clean energy industry. It's incredibly important to get out in the field to see what our technicians do on a day-to-day basis and to be someone who wants to get hands-on experience to learn.
Learn more about a career with InvenergyServices Check out
open positions
on our Operations Engineering team and more.