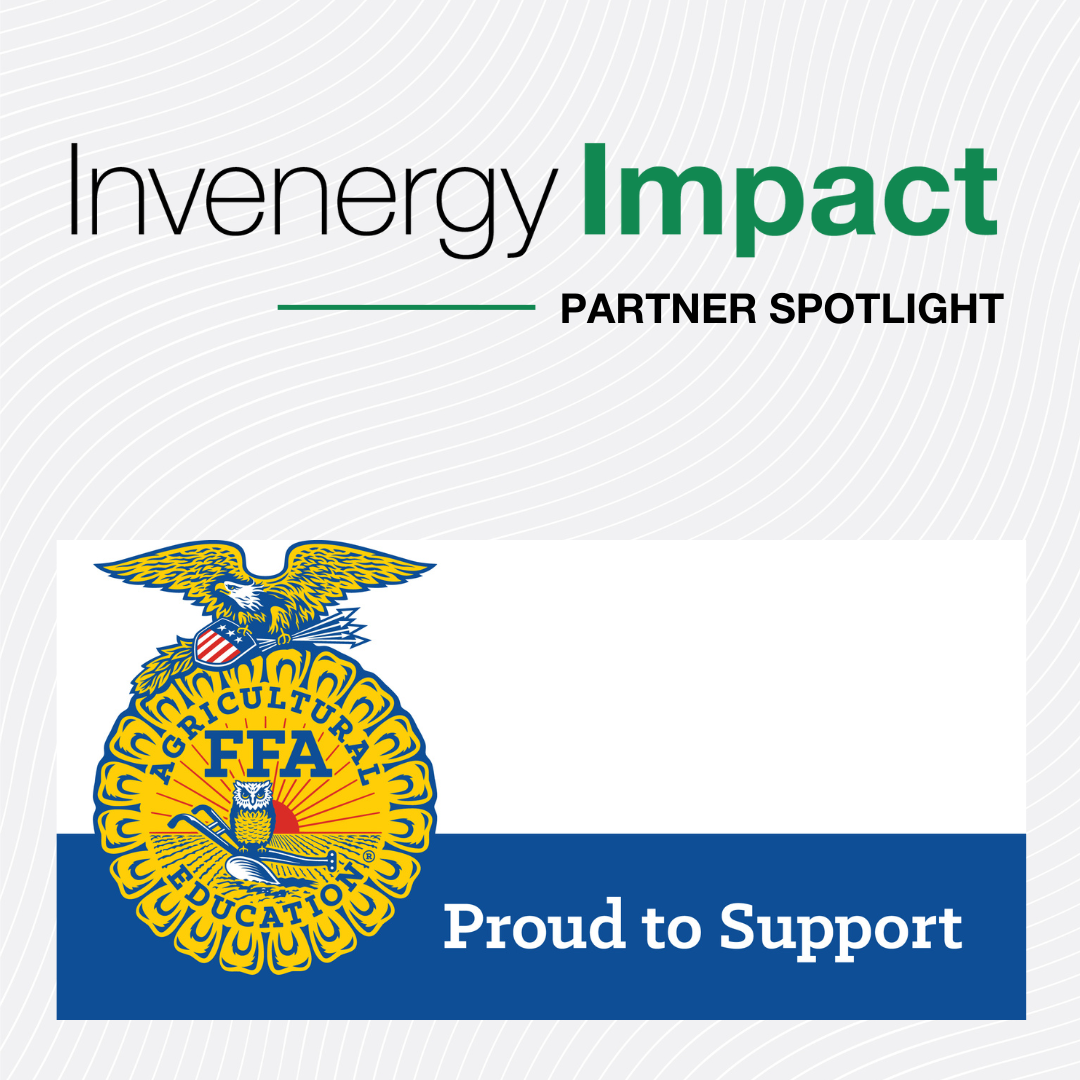 To cultivate the next generation of innovators building a sustainable world, students need to gain the leadership experience and technical knowledge necessary to succeed in the clean energy industry. The National FFA Organization, also known as the Future Farmers of America, is critical to helping students develop those skills. Invenergy is proud to feature them for our Impact Partner spotlight.The FFA is dedicated to giving students the opportunities to grow their skills for future careers in agriculture, biology, veterinary medicine, chemistry, engineering, entrepreneurship and more.Since 2018, Invenergy has been a proud sponsor of local FFA chapters located near our project sites. As part of Invenergy's Impact program, project sites make regular financial contributions to local FFA chapters. But Invenergy's involvement goes beyond donations.
Invenergy's team at Buckeye Wind Farm in Ellis County, Kansas, has assisted four local high schools with creating gardens for their campuses. The Buckeye team brought compost tumblers, gardening tools, and shipping containers to repurpose as garden beds to the school, and they helped the students set everything up.
"You're working with a local group of kids, working with your fellow technicians, and it's fun to give back and do it as a group," says Buckeye O&M manager Nolan Schmeidler.And for Schmeidler, it's even more personal. He attended one of the high schools where he and the Buckeye team now regularly volunteer.
Lesa Lang-Parson, Administrative Assistant at Buckeye, is grateful for the opportunity to share her passion for sustainable energy with students. One way she has been able to do that is when she helped bring solar panels to a high school and spoke with students about renewable energy to encourage them to start their own sustainability initiatives.
"We're here to share our knowledge, we're here to help people and educate them on how to help themselves," Lang-Parson says. "I think the youth is our future, and I want them to know what they're doing when I think the youth is our future."As part of the FFA uniform, members wear blue corduroy FFA jackets to commemorate their participation and hard work in the organization. This year, Invenergy is donating 100 FFA Blue Jackets to FFA chapters across the country, which for the students who get an opportunity to wear one are a symbol of community, pride and a reminder that they are a part of something bigger than themselves.The connection to FFA is very personal to the many Invenergy employees who were members of the program in high school. For instance, Bristi Cure, Invenergy's Vice President, Renewable Development, says the FFA was an important part of her leadership development journey.
"I joined the Spur FFA chapter to broaden my educational experience," Cure says. "I began competing in parliamentary procedure, radio broadcasting and meat judging state competitions that improved my public speaking skills and allowed me to expand my network."
The highlight of the year for FFA students is the upcoming 95th FFA Convention held in Indianapolis from October 26-29. The FFA Convention showcases the many talents and career paths that students have explored during their time in the program. Invenergy is proud to sponsor the biotechnology, environmental service and natural resources systems pathway at this year's Convention. Attendees who participate in sessions under this pathway will learn more about agriscience research, environmental and natural resources, environmental science, natural resource management, forestry management and products, outdoor recreation, and wildlife protection and management.Invenergy is proud of the work we've done with the FFA, and we're looking forward to continuing that legacy.
"The FFA provided my first real-world experience in networking," Cure says. "Now, as a renewable energy project developer, I highly depend on this skill to build trusting relationships and get projects across the finish line."Invenergy's Impact partnerships are a reflection of the core principles of our business and the role we want to play in a changing world. Learn more about how Invenergy and our partners are making an impact at www.invenergyimpact.com.