Boulder County Wildfire Fund
Destructive wildfires burned down nearly 1,000 homes in Boulder County, Colorado on December 30th, 2021. To provide support to those affected by the wildfires, Invenergy Impact donated $10,000 to the Boulder County Wildfire Fund, organized by the Community Foundation Boulder County. This foundation works closely with local government and nonprofit partners to provide aid to those with damaged or destroyed homes, those who were evacuated, and who lost wages due to business closure or destruction.
MLK Day of Service at the Lakeview Pantry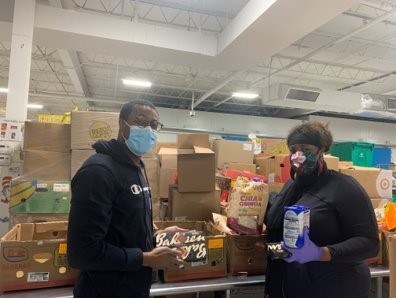 On Martin Luther King Jr. Day, Monday, January 17th, members of Black and Brown @ Invenergy (BBI) embodied the "a day on, not a day off" mission for this National Day of Service. The team volunteered at the Lakeview Pantry, one of Chicago's largest and longest-operating food pantries. The Lakeview Pantry provides food, mental wellness services, and social services to all areas of Cook County, and in 2021 alone they served over 177,000 individuals. During this day of service the Invenergy team unloaded and sorted donations of food, took inventory of donations, and helped clean up The Hub, Lakeview Pantry's warehouse in Ravenswood. Pictured left to right, Matt Ball, Associate General Counsel, Legal, Joshua Harris, Senior Staff Quality Engineer, Renewable Electrical Engineering, Tom Egan, Manager, Renewable Electrical Engineering, Eyuel Gorfu, Senior Staff Engineer, Renewable Engineering, Ryan Harding, Associate General Counsel, Permitting, Reine Rambert, Senior Associate, Government Affairs, Kristin Brause, Assistant General Counsel, Legal and Rhonda Jones, Vice President, Regulatory Compliance
Camp Springs Supports the Scurry County Jr. Livestock Association
Both the 4H and Future Farmers of America (FFA) programs are important community partners across all our developing and operating projects. Last month, the 130.5-MW Camp Springs Energy Center in Texas supported the Scurry County Jr. Livestock Association with a donation to support student exhibitors in the livestock show ring. Through donations from local communities and businesses, over $540,000 was raised in total for local students! The Camp Springs team has also helped set up the stock show ring prior to the start of the show to support the program for the past five years. Jackie Roberson, Site Administrator, Victor Chapa, Wind Technician, and Justin Sullivan, Lead Wind Technician, helped-out at the event this year. Photo caption: Jackie pictured with family friend and local student Tatum Bec Price setting up for the livestock show.
Invenergy Volunteers at MSI's Black Creativity Career Showcase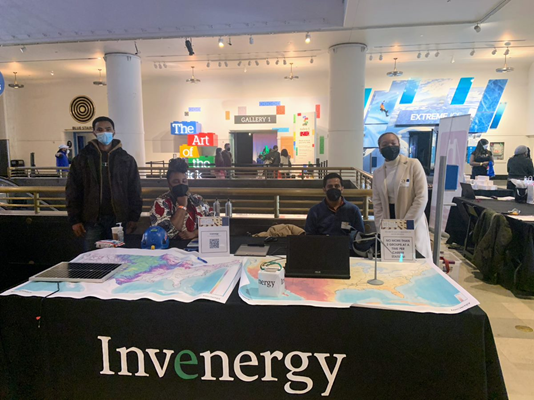 On Saturday, February 26 Invenergy employees from our Chicago office volunteered at the Chicago Museum of Science and Industry's (MSI) Black Creativity Showcase. This Career Showcase is part of the larger Black Creativity programming at MSI throughout Black History Month. The mission of the program is to inspire African American children to pursue educational opportunities and careers in the fields of science, technology, medicine, and engineering, through programs and events at the museum. This year there were 17 career stations, almost 70 professionals and approximately 3,500 guests attending the event! Eyuel Gorfu, Senior Staff Engineer, Renewable Engineering, Rhonda Jones, Vice President, Regulatory Compliance, Varun Praveen, Project Manager, Renewable Project Management, and Anne-Lawrence Nemorin, Staff Engineer, Renewable Engineering represented our Chicago team at the event.
Local Nebraska FFA Chapter Presents "How Wind Energy Affects Us Today"
The Boone Central Future Farmers of America in Albion, Nebraska asked the local Invenergy Operations team to review a virtual presentation they prepared for the Nebraska State FFA for the agricultural issue contest, "How Wind Energy Affects Us Today." The team of four provided many facts and statistics about wind power and the Operations team gave feedback based on their extensive knowledge of the industry. Among these experts are Chelsey Briese, Manager, Operations Support, Matt Krings, New Site Start Up Manager, Renewable O&M, Luke Hinkle, Director, Renewable O&M, Nick Heithoff, Thunderhead Energy Center O&M Manager, Cole Haddix, Lead Field Services Technician 3 Level 2.
Trust for Public Land Community Charrette
Utopia Hill, Head of Engineering, Procurement, and Construction at Reactivate and Alicia Russo, Senior Analyst, Social Impact, Invenergy attended a community charrette with leadership from one of Invenergy's Impact Partners, the Trust for Public Land (TPL), various community members and associations working on the design for an Under the Grid project in Chicago's North Lawndale neighborhood. The local community is heavily involved in planning out the look and feel of the space, and during the charrette mood boards were scattered around the room with different elements that could be included in the space. To learn more about this project and many others part of TPL's Equitable Communities Fund, attend the Impact Partner Lunch & Learn on Monday, April 18.
VTO at the Greater Chicago Food Depository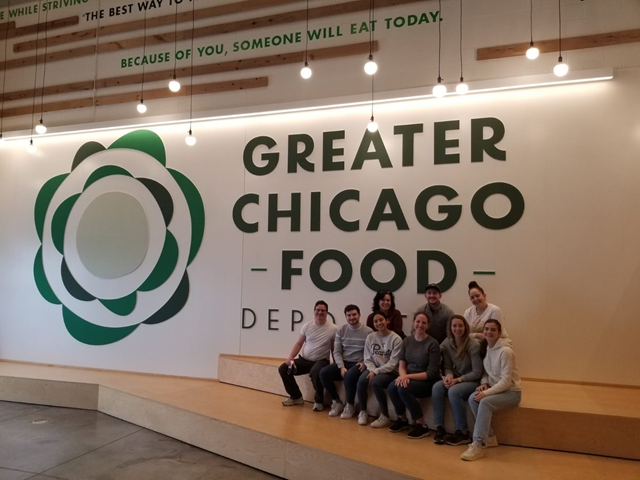 To celebrate Wellness Week, a group from the Invenergy Chicago team focused on Community Well-Being by volunteering at the
Greater Chicago Food Depository
. The team boxed 6,040lbs of assorted foods, which equals about 2,400 meals for people in need. Sandra Enshiwat, Senior Manager, Total Rewards, Stephanie Cuddalore, Senior Accountant, International Accounting, Isabelle Pascarelli, Manager, Business Transformation, Ellen Janowski, Associate, Knowledge Management, Stephen Rodgers, Accountant, Corporate Accounting, Erin Eastwood, Senior Analyst, Business Transformation, Patrick Magnier, Project Manager, Renewable Project Management, April Alvarado, Senior HR Generalist, Foster Lewin, Technology Adoption Manager, and Jennifer Karim, Associate, Land Development all helped out at GCFD.
Nelson Energy Center Supports Annual 5K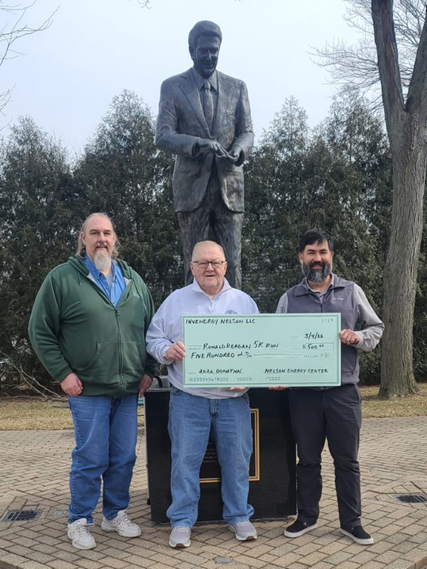 Colleagues at our 584-MW Nelson Energy Center in Illinois are supporting the annual Ronald Reagan 5k Run in Dixon, IL for the seventh year in a row. The event itself takes place in July, and in past years Nelson employees ran the race together as part of their team building. This year, the Reagan Run 5k Committee is awarding six $500 scholarships to students pursuing post-secondary education at a 2-year college, 4-year college/university or trade school. Rob Rooney, Nelson Plant Manager, Josh Alfaro, Nelson Maintenance Manager, and Lisa Young, Plant Administrator presented the donation to a representative for the Reagan Run.