We hit a major milestone this month: our portfolio has grown to more than 15 gigawatts (GW) of clean, reliable energy projects in the 15 years since our founding! This includes projects we have developed, contracted or acquired as well as those we operate. For a little context on the scale of 15 GWs, that's enough capacity to power 4.5 million U.S. households.
But, we didn't get here overnight. As a pioneer in the cogeneration and independent power industry in North America, our Founder and CEO Michael Polsky, brought experience from two predecessor companies he had founded and successfully grown, SkyGen Energy and Indeck Energy Services. Michael and seven other members of Invenergy's founding team, including our President Jim Murphy, set out on their new venture in 2001.
We began with our first project, Hardee Natural Gas Plant (370 MW) in Florida; fast forward to today, and we have more than 800 employees and a diversified portfolio of 103 projects across four technologies:
wind
,
solar
,
advanced energy storage
and
natural gas
. And we are proud to be North America's largest independent, privately held renewable energy provider.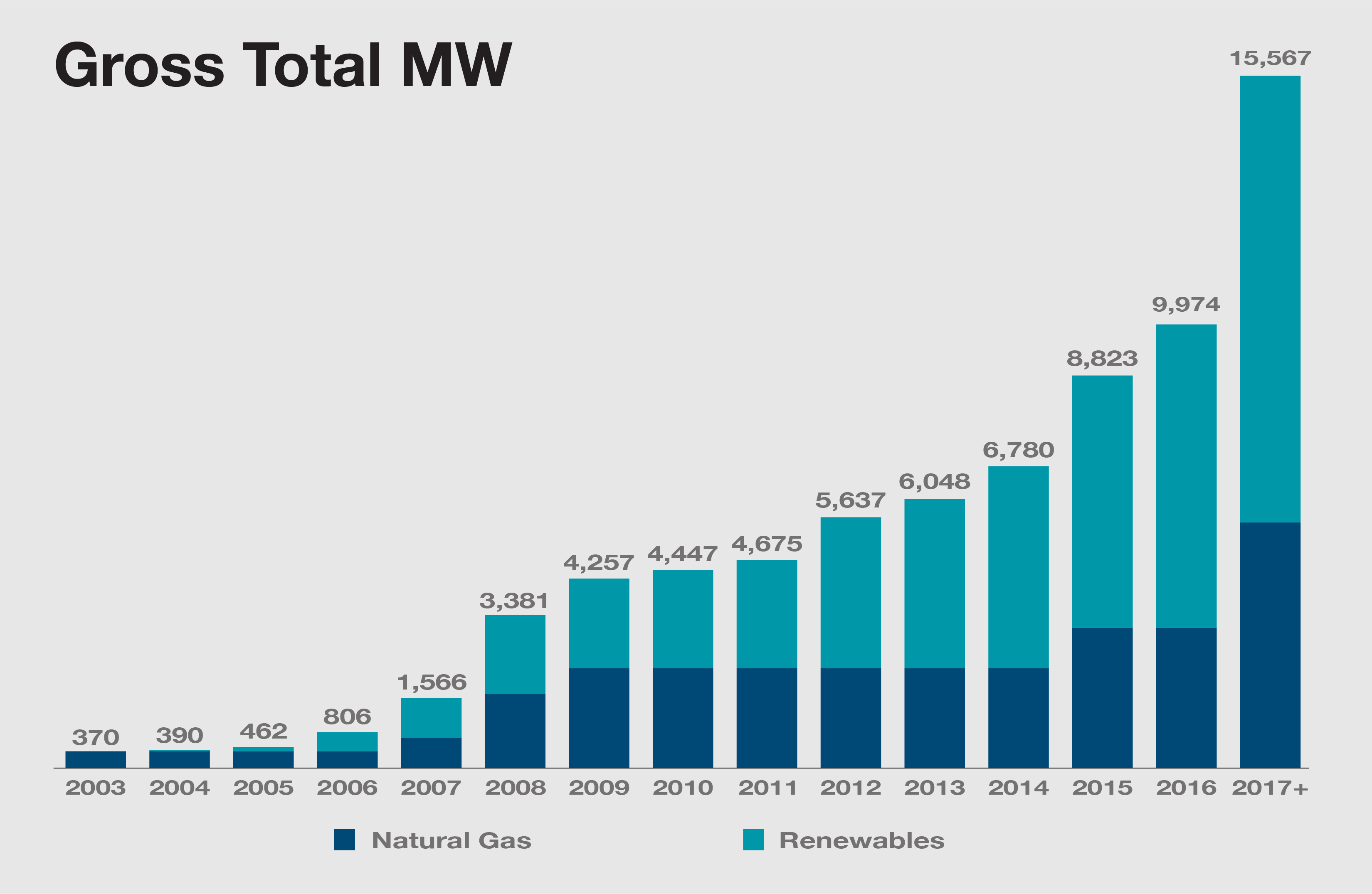 Renewables includes wind, solar and storage. "2017+" includes projects that are operating, in construction or contracted.
So, how did we get here? By embracing bold, entrepreneurial ideas in the rapidly-changing energy market and delivering first-class project execution for our customers. Our founding team applied this mindset to Invenergy's first investments, and we're still approaching projects the same way today.
In 2002, we saw business potential in wind energy before many others. It was new territory for us, but developing, financing, constructing and operating complex energy projects had always been our specialty. So we went to work on wind.
Taking that chance served us well. We soon figured out that wind development went beyond building and operating a site. We had to win the trust of local landowners and host communities. We had to forge relationships with utilities and corporate customers who themselves were adapting to changing energy technologies. These partners now rely on our expertise — in development, construction and operations — to help them meet their clean energy needs. [Read:
Invenergy to Provide Clean Power to Google
;
MidAmerican adds 551MW in Iowa
]
Fast forward again to 2006 when we expanded to solar energy, and 2012 when we started working on battery storage as the cost of these technologies fell and their role in a dynamic, resilient energy system became obvious. As a relatively young company in the energy industry, Invenergy's portfolio is a rare mix of wind, solar, storage and high-efficiency natural gas – technologies that form the basis of a modern electric grid – without legacy assets like coal, nuclear and oil plants.
Come visit our Grand Ridge Energy Center in LaSalle County, Illinois and you will see the future of energy. It's the largest renewable energy center in the world where wind (210 MW), solar (20 MW) and advanced-energy storage (36 MW) are co-located. It also features the second-largest lithium battery complex in the world. In 2015, Invenergy received
two awards for the Grand Ridge Storage Project
, including the Power Engineering and Renewable Energy World 2015 Project of the Year Award for Best Renewable Project. It was the first time a storage project ever won this award. The project also won Energy Storage North America's (ESNA) 2015 Innovation Award for Centralized Storage.
A key factor to Invenergy's success across all technologies is our operating philosophy. In 2006, we made the decision to operate our wind projects ourselves. And it has paid off. Having dedicated staff at our facilities – who build deep knowledge of the equipment and feel a sense of ownership of the projects – is critical to our ability to keep our projects running at one of the highest rates in the industry. This year, we were honored to receive the
2017 Excellence in Operations Award from the American Wind Energy Association (AWEA).
Our 15th company anniversary and our 15 GW milestone are celebrations of successes. But we're in a dynamic business and must stay nimble to succeed. In his recent Town Hall CEO address, Michael Polsky remarked, "If one thing is certain in this business, its uncertainty. I have always viewed that as opportunity." Look for Invenergy to continue to define the direction of energy for the next 15 years and more, because our business philosophy, our people and our culture of innovation are all focused on the future.