Since 1916, the Chicago Urban League has worked to achieve equity for Black families and communities through social and economic empowerment. Each year, the organization helps more than 15,000 Chicagoans find jobs, secure affordable housing, enhance their education, and grow their businesses, with an emphasis on civic engagement and community building.
Invenergy is proud of our support for Chicago Urban League, most recently sponsoring two fellows for the 2022-2023 IMPACT Program, a key effort in promoting diversity, equity and inclusion in the Chicagoland community. Since 2014, the
IMPACT
Leadership Development Program has supported seven cohorts of emerging leaders, each consisting of some of the brightest, most talented Black professionals in Chicago.
The intensive, nine-month program begins in September and provides Fellows with the broad knowledge base, keen insight, and sharpened perspective that will make them more effective leaders. The program's educational partner is the University of Chicago Booth School of Business, whose faculty provides monthly workshops and discussions promoting a broad range of professional development topics.
Last year, Invenergy had the honor of co-sponsoring IMPACT Fellow Arielle Johnson, previously Deputy Director of the State of Illinois Central Management Services' Business Enterprise Program. She has recently moved into a new role, Director of Operations & Strategic Partnerships at Big Heart Ventures. Below, Arielle talks about why the program was so impactful to her and so important to the broader Chicago community.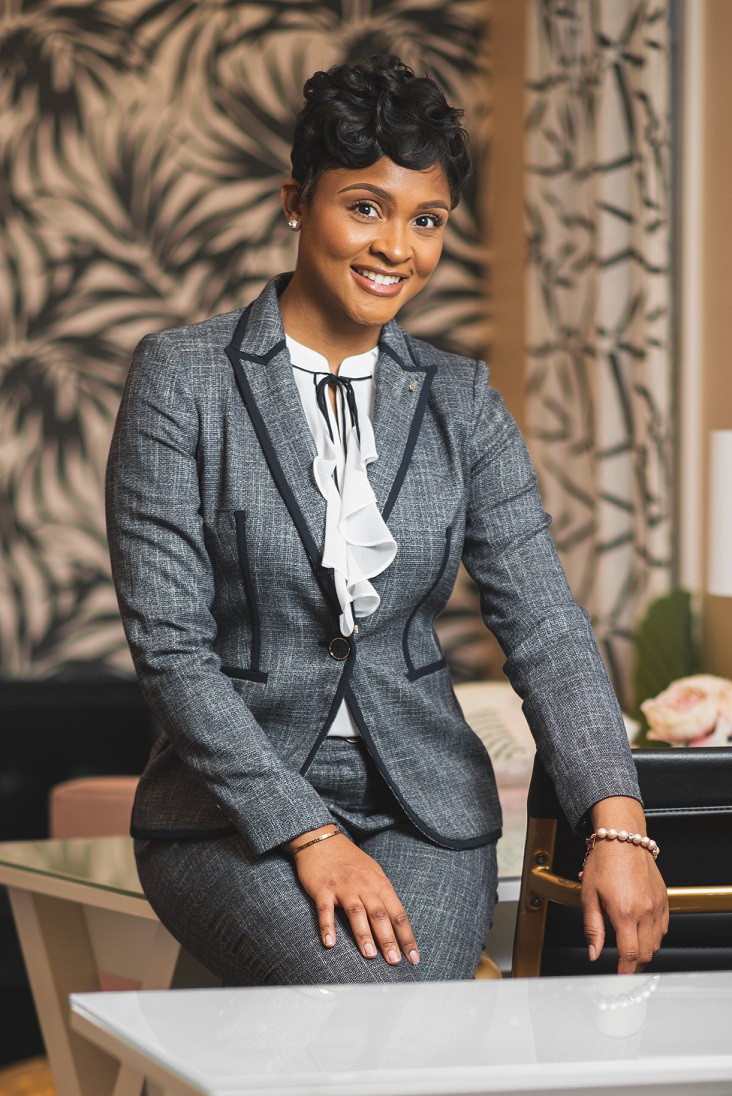 Arielle Johnson, 2021-2022 IMPACT Fellow
Your professional experience is impressive and varied – what are some of the most meaningful projects you've worked on so far in your career?
Leading the State of Illinois Business Enterprise Program, which ensures minorities, women, and persons with disabilities are represented in the economic benefit of State Procurement has by far been the most challenging and rewarding experience in my career so far. Transitioning from that program to be on the first-ever Commission on Equity and Inclusion was meaningful as well. The Commission on Equity & Inclusion (CEI) was established after the signing of Senate Bill 1608, a pillar initiative from the Black Caucus with the priority of addressing barriers historically caused by racism and increasing representation and access in the State of Illinois's contracting process. This stretched my skills as an operational people leader managing the needs and concerns of multiple stakeholders, but navigating policy and developing effective operations that will help the state's residents was an amazing opportunity.
Of course, I have to mention I ran Concierge Operations for the Super Bowl 50 Host Committee – there's nothing like it, and I think the 2022 Super Bowl was probably in the top 5 ever!
All of your volunteer and professional work is based on helping your community – can you talk a little bit about what has guided your career thus far?
I am only here today due to community programs such as Habitat for Humanity, which helped my mother get a home for my sister and me after being homeless for a year, or Student Parents on a Mission at Michigan State University, which made sure I had access to quality childcare and resources when I completed undergrad as a young mother.
I am fully aware of the hard work and daily sacrifice that had to take place for me to be who I am and have the access I do today. I am eager to continue removing barriers in my work and as a member of organizations like the Chicago Urban League's IMPACT Alumni Association, Delta Sigma Theta Sorority, Incorporated and Business Leadership Council.
As the current Deputy Director of the State of Illinois Central Management Services Business Enterprise Program – what do you see as the most valuable way to support growing businesses owned by minorities, women, and persons with disabilities?
I am recently now in a new role as Director of Operations & Strategic Partnerships at Big Heart Ventures. However, the most valuable way to support growing businesses is to collaborate directly with the systems that advocate for them. That can be working with the organizations I mentioned above and identifying where and how you can contribute, and detailing the needs and expectations of the work you'd like to do.
Has your position or programming ever touched on renewable or sustainable energy? Do environmental and climate concerns impact the work you do?
The State has contracting opportunities for businesses that can provide services in this area. The Business Enterprise Program will certify a business that is owned by a minority, woman, or person with a disability so that they can bid on these contracts as a BEP Vendor.
Why did you apply to be a part of the Chicago Urban League IMPACT program?
I applied to IMPACT because I am eager to grow as a Black leader invested in removing barriers and creating opportunities. As a young Black female leader, I have experienced challenges that are unique to this identity, so building a community of mentorship and support is important for me and others like me. In addition, I have grown in my career quickly so I am always focused on learning and stretching myself to be better, and I knew IMPACT would provide the tools for me to do so.
What has been the most valuable aspect of the IMPACT program so far?
The diverse group of Black Fellows in the 2022 class of IMPACT has by far been the most valuable aspect of IMPACT! We all have so much in common, yet so many different experiences. Each of them challenges me in a different way and all have so much wisdom and passion to share!
What advice would you give to someone considering applying to the IMPACT program?
Apply!! Be sure you are ready to be challenged and focus on how you plan to use knowledge and resources to address the challenges faced by the Black community. Have an open mind and be prepared to be stretched mentally; the way you have always viewed the barriers that face Black Chicago may not be as clear as you think. Overall, use your life experiences and passion to make meaningful contributions - you have been placed on your path for a reason.
Learn more about how Invenergy and our partners are making an impact at www.invenergyimpact.com