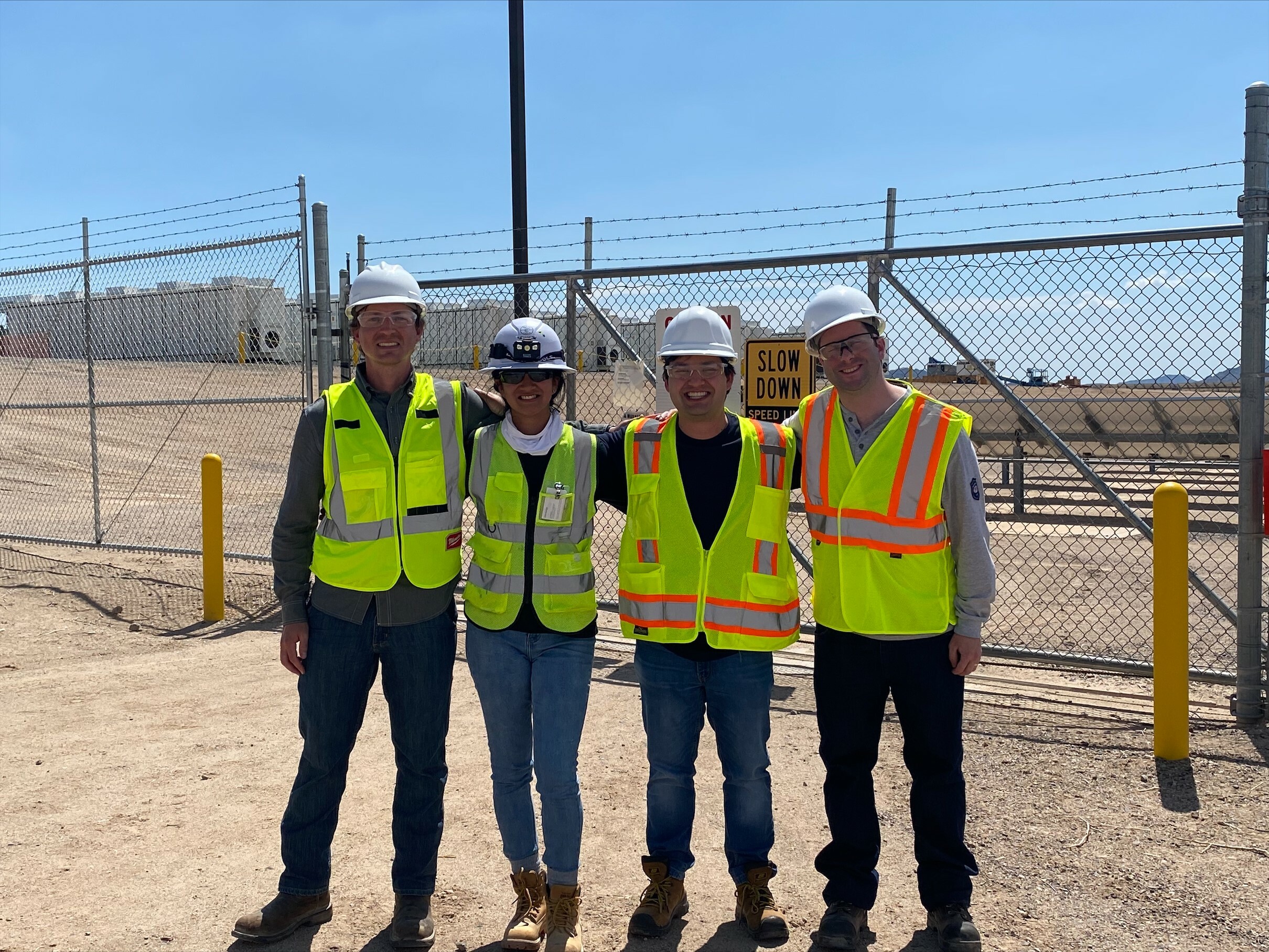 Jumping right in and learning firsthand are key to innovation. That is especially true when dealing with new technologies and processes—like Battery Energy Storage Systems (BESS). Invenergy storage team Staff Engineers Jane Rodriguez, Jim Kennedy, and Xochitl Menchaca spent a month at the series of battery projects Invenergy is developing outside of Phoenix fin Arizona.
The experience allowed the engineers to see battery projects at various stages of construction and better understand the work that contractors and site personnel do across the development cycle. Each engineer worked alongside site staff to perform battery inspections, set up SCADA systems, and troubleshoot any issues that may have come up over the course of site construction.
Kennedy says he appreciated how quickly he was able to jump in and get his hands dirty.
"If you go to a site for a few days or so, it can be a great way to complete some of the high priority tasks for a project," Kennedy says. "But if you are there for a month, you can really begin to understand the day-to-day issues that the contractors face. This level of understanding of how a project is built really helps us improve the design of future projects on a fundamental level."
Storage technologies are crucial to the broader deployment of utility-scale renewables. Among several other beneficial uses, storage allows for "solar after sunset," or the ability to use stored solar power when the sun isn't shining.
Invenergy's first foray into battery storage was at the Grand Ridge Energy Center (244.5 MW/MWh, Wind, Solar, and Storage, IL) facilities, which has included Lithium-ion batteries since 2012 to support the onsite wind and solar projects. Invenergy began construction of the Arizona projects in 2019, with plans to build a total of six storage facilities. Five of the projects currently under development stretch 150 miles west of Phoenix across Yuma and Maricopa Counties and are slated to become operational between June and October this year.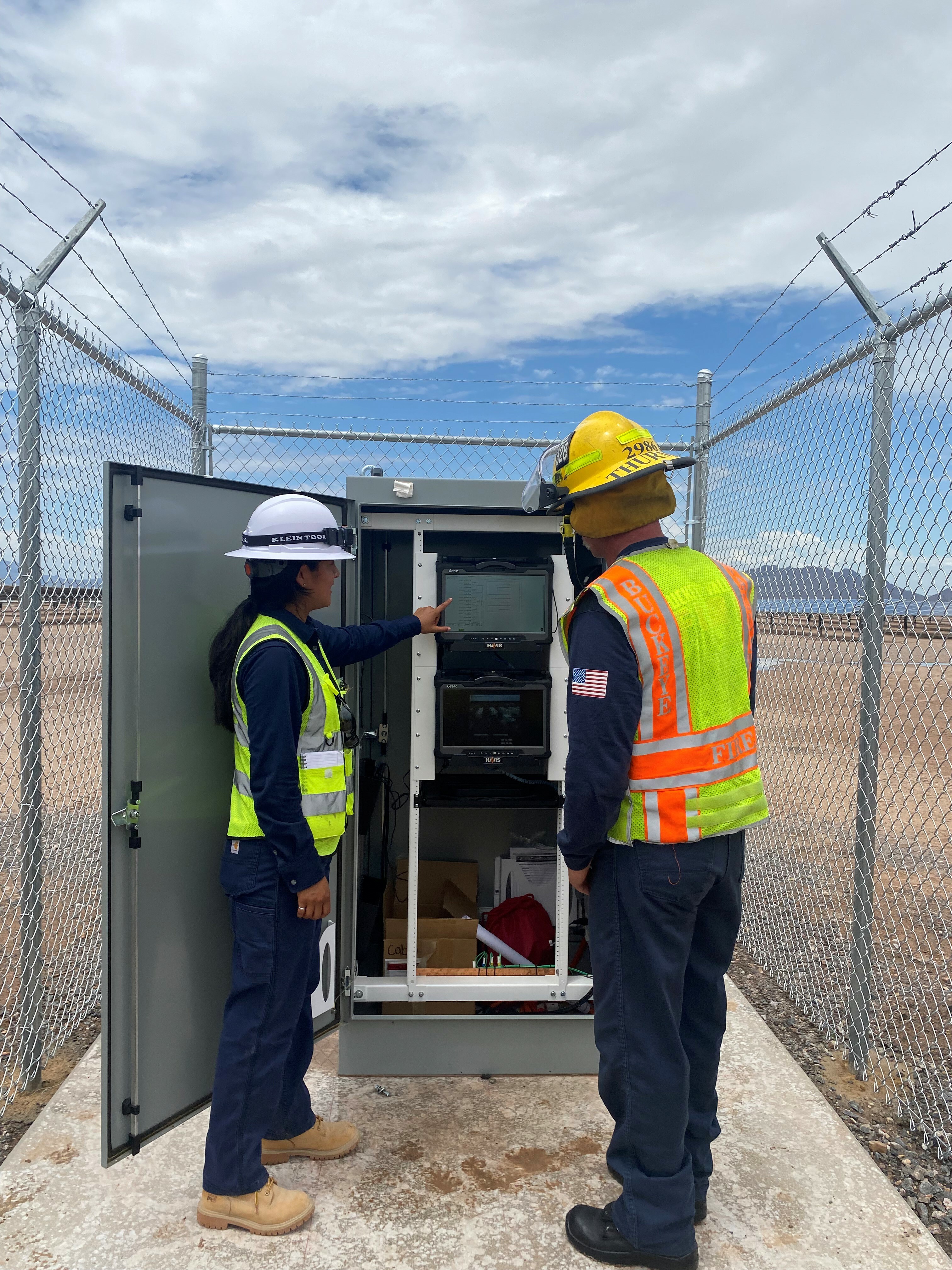 Current battery technology generally provides four hours of storage, with longer duration batteries considered the "holy grail of storage," Rodriguez says. Ten-hour storage is currently possible but not economical, however, "storage is going to be super critical for addressing the energy crisis, and different BESS designs are being explored to make longer duration batteries feasible."
Manager, Renewable Engineering Mike Alpogianis coordinated the trips to Arizona and says the opportunity bridges the gap between the physical and theoretical sides of engineering.
"The stationary battery industry (think energy storage, not EV or cell phone batteries) is relatively new and rapidly evolving so there is much to learn. Through these onsite roles, our engineers bring a more practical understanding of the technology back to the office to help us/Invenergy better execute on future storage projects and solidify our leadership in this market."
The experience was so rewarding and helpful in advancing her knowledge of storage systems that Rodriguez will soon be spending another month on-site in Arizona.
"Invenergy doesn't shy away from something new and upcoming," she says. "I'm ready to get back in the field."