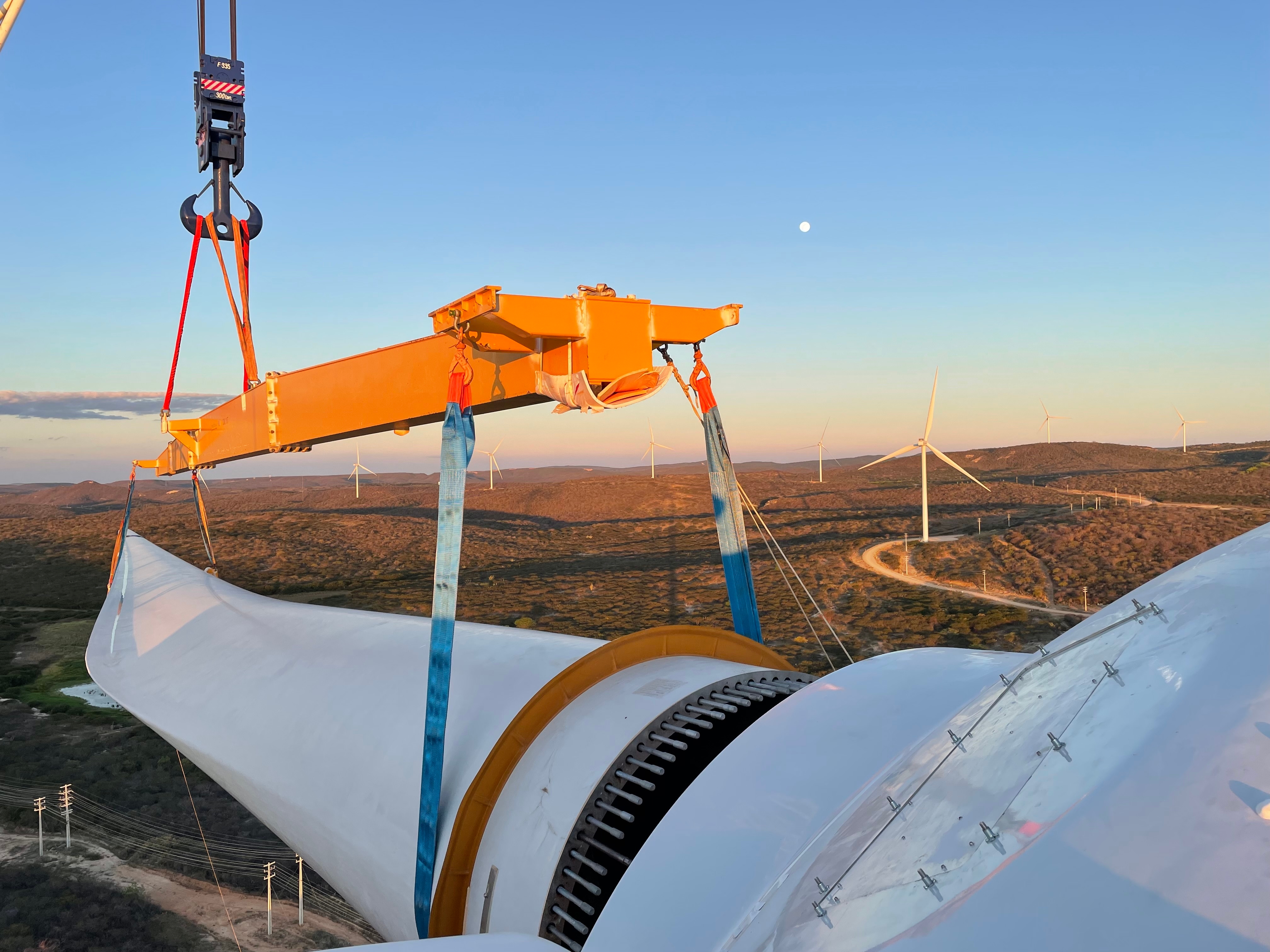 Did you know Brazil has become the sixth-largest wind producer in the world? The country currently boasts approximately 20 GW of wind generation, providing 12 percent of its annual energy production and enough electricity for almost 29 million homes. The country aims to double its wind capacity by 2030, and Invenergy Services will be right there to help this transition along.
In March 2022, Invenergy Services acquired Alísios, a Brazilian company specializing in wind farm operations and maintenance work. The Brazil team provides major component replacement, performance analytics, and O&M contracts for wind farms across Brazil and offers an unparalleled level of service to Brazil's growing renewable industry.
The two teams' areas of expertise – Gamesa and GE turbines – are bolstered by Invenergy Services' engineering and analytics capabilities, which help predict equipment issues to a degree not previously available to customers outside of expensive OEM contracts.
"The opportunity is unique because of the size of Invenergy Services' backing – other companies are smaller with limited capacity," says Rodolfo Scheeffer, Director, Asset Management and Finance who is the country manager for Invenergy Services' work in Brazil.
Invenergy Services also offers our customers an approach driven by our 'owner's mindset,' which means we treat each customer's project as we do our own. Invenergy Services currently maintains more than 17 GW of projects across four technologies, and this experience combined with the local staff ensures maximum clean energy production and prolonged equipment life regardless of who owns the project.
"We have a very good group of well-trained technicians and a culture committed to safety," Scheeffer says. "Our technical and safety standards are very aligned with Invenergy Services' – and we work and operate like a family."
Brazil's consistent wind resources have helped build a robust clean energy economy that also sees more than 65 percent of the country's power coming from renewable hydroelectric sources. Offshore wind is poised to play a large role in Brazil's energy future as well, with the Brazilian Institute for the Environment and Renewable Natural Resources (Ibama) identified more than 80 GW of offshore wind power generation projects currently in the licensing process.
"The plan is for Invenergy Services to have three times more technicians in Brazil by 2026 as we grow the O&M business," Scheeffer says. "We've already done some work in Uruguay – we're ready to support South America."
It's never too early to think big for the future, and Invenergy Services is excited to continue doing what they do best in Brazil – providing customers with expert service and building a more sustainable world along the way.
Invenergy Services operates with an owner's mindset because we are owners. Our success is built on two decades of experience and innovation, and we take pride in offering customers the same level of care that has driven our own success – no matter where in the world they are.