One of the most basic questions running through the head of any renewable operator is: Under current weather conditions, how much power should we be producing at a given site and how does that compare to what we are producing right now?
The staff at Invenergy Services are always working to improve the performance of the sites we manage, and we knew that getting a good answer to this question was key to increasing operational efficiency for ourselves and our customers.
Invenergy Services' operations engineering team designed and built the Expected Power Model, an extremely powerful tool that uses real-time weather data to continuously compare expected power to actual power output. The Expected Power Model monitors expected power at the block level all the way down to the combiner box, providing granular data that guides technicians to any areas of the site that need attention.
To create the Expected Power Model, the team created a digital twin version of the power plants at each of Invenergy's sites. For weather inputs, the program uses real-time conditions and cloud coverage picked up by several meteorological stations at the sites.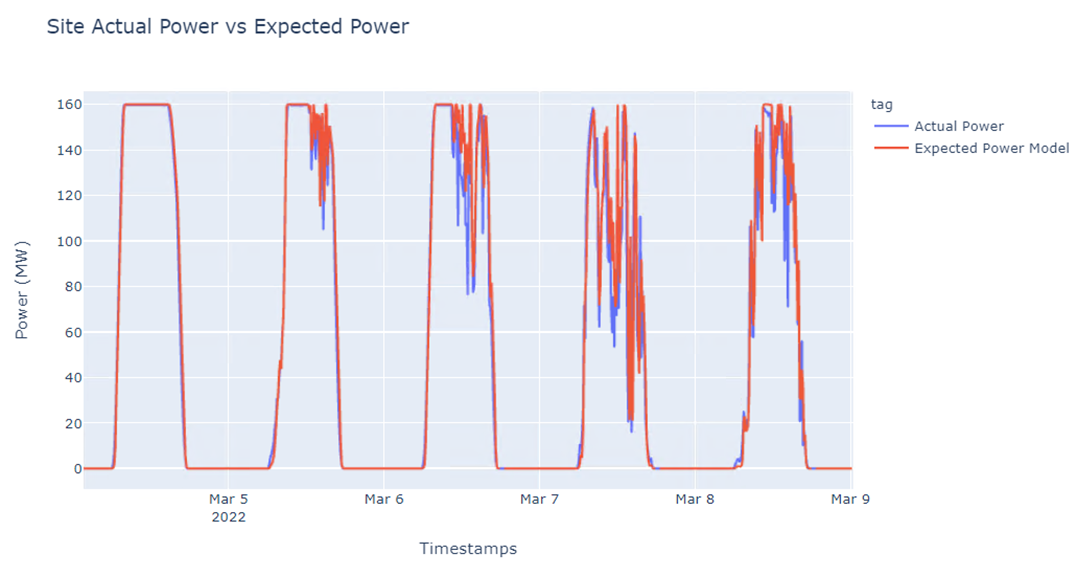 The graph above shows how the Expected Power Model looks to our engineers. As you can see, there is a steady rise and fall in energy production/expected energy production as the sun moves through the sky. The Expected Power Model clearly contrasts any differences between expected power output and actual power output as they occur. The program also compiles historical data so Invenergy Services' engineers can compare short- and long-term production trends to maximize availability and production.
The Solar Expected Power Model has quickly become a critical piece of Invenergy Services' solar operations because it delivers accurate production results and aids in the performance tracking and troubleshooting of each project. This Model is another proprietary analytical tool that Invenergy Services has developed in-house in order to improve the availability and reliability of its solar power plants.
As Invenergy Services brings new technology and equipment into the fold and expands our work with equipment manufacturers, we will continue to use the Expected Power Model across sites to make each project as successful as possible. Services' customers will benefit from innovations such as these, one of the many steps we take to make renewable energy more available, reliable and affordable than ever before.