November is National Veterans and Military Families Month, a time to remember the many sacrifices made by servicemembers across the US armed forces. These men and women safeguard our security and prosperity, and each year we recognize our veterans for their service to the country.
"The military is not just about fighting wars in foreign countries," says Invenergy Vice President, Third Party Services Brad Purtell, who spent six years in the Navy. "It's about protecting the American way of life, both abroad and domestically, which includes helping fellow Americans recover in their darkest hours."
It is in that spirit of community engagement that Purtell and Senior Manager, Operations Support Frank Santiago went to Gibson City, Illinois to volunteer with
Team Rubicon
to assist families displaced by flooding.
Vice President, Third Party Services Brad Purtell and Senior Manager, Operations Support Frank Santiago stand with other volunteers working with Team Rubicon to help families affected by flooding in Gibson City, Illinois.
Team Rubicon is a nonprofit disaster response organization that mobilizes veterans and civilian volunteers (known as "Greyshirts") to help people prepare for, respond to, and recover from disasters and humanitarian crises in the United States and abroad. The organization has responded to over 400 disasters since the group was founded in 2010. Recent activities include COVID-19 vaccine distribution, helping to resettle Afghan allies in the United States, and providing on-the-ground support in following a major earthquake in Haiti and Hurricane Ida in Louisiana.
Invenergy has worked with Team Rubicon on a variety of disaster recovery efforts, and last year raised more than $5,000 for the organization by selling facemasks. The partnership with the organization has been spearheaded by the Invenergy Veterans Network (IVN), a company affinity group that supports veteran recruitment and engagement in clean energy and coordinates additional days of veteran-driven volunteer service.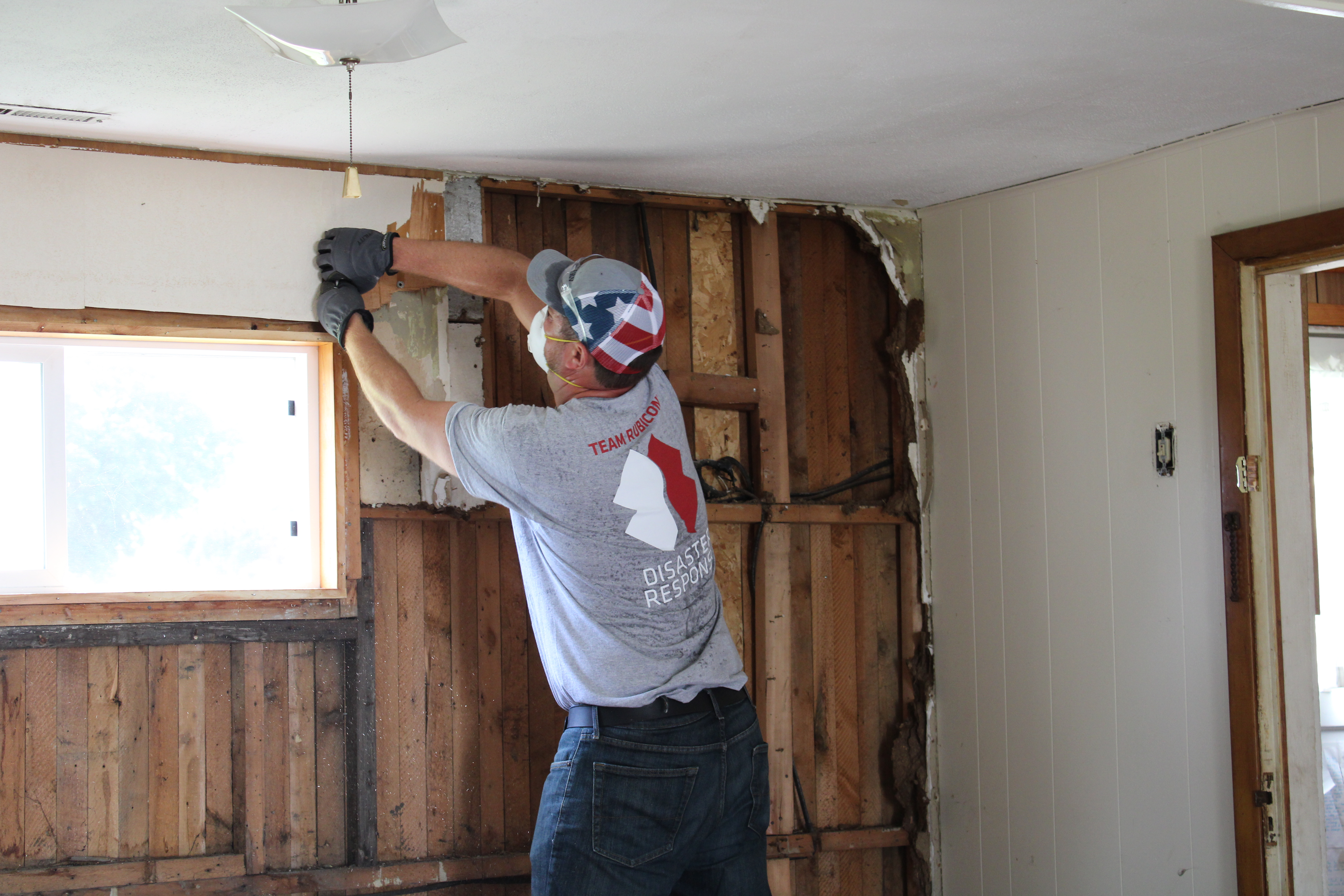 Vice President, Third Party Services Brad Purtell rips down some damanged drywall to prepare the home for repair and rebuilding.
Down in Gibson City, Purtell and Santiago worked side by side with fellow veterans and volunteers to provide a much-needed service for the residents in their "darkest hours." Late summer rains caused flash flooding that made almost every road in the area impassable and required the evacuation of hundreds of people from their homes. Once they were able to return, they saw how significant the flood damage was, and the volunteers got to work removing old, soiled drywall, flooring, and framing to prepare the homes for repair and rebuilding.
Santiago, who also spent six years in the Navy, was happy to get his hands dirty helping the people in Invenergy's home state.
"My time in the military instilled certain qualities and attributes that are long-lasting, and these qualities have shaped the way I think and work," Santiago says. "Our deployment with Team Rubicon served as a reminder of the camaraderie and sense of purpose that allows us to carry out the mission of restoring communities and peoples' livelihoods."
The technical skills and community-focused approach instilled during their time in the military have also helped many veterans find a new home in the renewable industry when their service ends. Approximately 10 percent of employees at the Invenergy headquarters in Chicago and 16 percent of Invenergy Services technicians are military veterans, and we're proud to have their expertise and dedication in building a more sustainable world – and in helping the communities around us.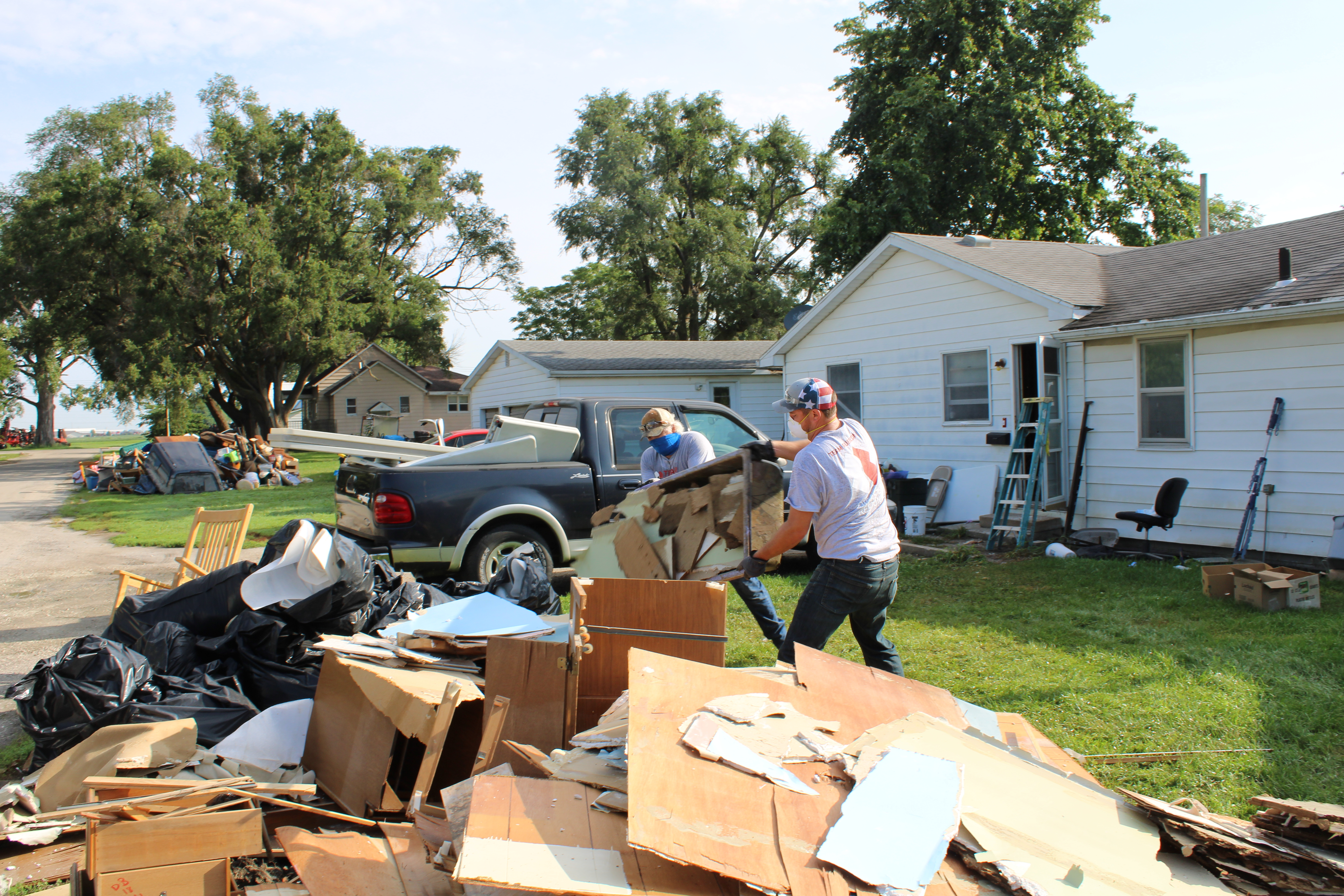 The amount of damage in each home was significant, as can be seen by the debris hefted out by the Team Rubicon volunteers.