As we celebrate National Veterans and Military Families Month this November, Invenergy offers our appreciation to our veterans for their service to the country and for the expertise and dedication they bring to our company and the clean energy field.​​​​​​​
Approximately 9 percent of Invenergy U.S. employees are military veterans, spanning from the staff at our Chicago headquarters to the technicians and plant managers working across our fleet. We are grateful to work alongside our veterans to build a more sustainable world and proud to highlight their stories throughout this November.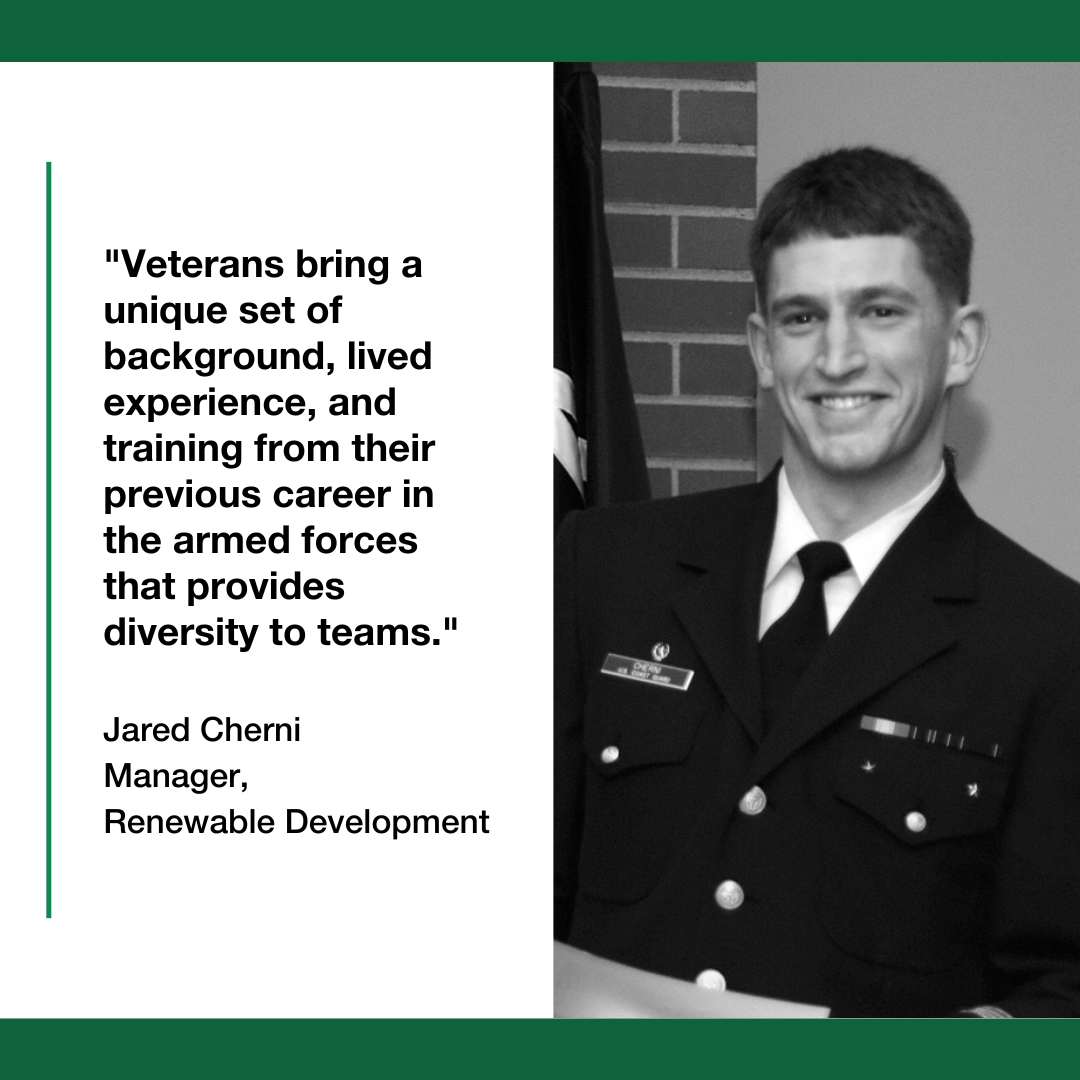 How long have you been at Invenergy and what is your current role? I've been at Invenergy for just over a year now. My role is Renewables Development Manager where I lead a small team focused on the development of wind, solar and energy storage projects in the Southwest Power Pool footprint in Texas, New Mexico, and Louisiana.
Please provide details about your service including your branch, rank/title, job, how long, when, and where you served. I served in the U.S. Coast Guard for five years and was the rank of Lieutenant/O3 when I separated. I was part of the Operations Afloat community colloquially known as a "Cutterman" and served aboard two ocean-rated buoy tenders each for two years. One of these was homeported in Astoria, Oregon and the other in Homer, Alaska. Between the afloat tours I had a year staff tour based in Cleveland, Ohio where I managed the operations and maintenance schedule for the fleet of nine buoy tenders and icebreakers that patrol the Great Lakes.
How did your military experience prepare you for your job now?What skills, capabilities, and characteristics transfer over? As a "Cutterman" and officer in the Coast Guard, I learned to pay attention to details, constantly modify and update plans due to changing conditions, make sense of a fast-charging barrage of sometimes conflicting or spotty information, and become a jack of all trades and a master of none. That is exactly what I continue to do as a renewable energy project developer today. The environment and missions are different, but the fundamental skillsets to manage complexity, follow and lead other teammates, communicate up, down and across the chain of command, and get things done are pretty much the same. ​​​​​​​
What do you like about working in the clean energy industry? A sense of meaningful purpose to my work and career, a theme of mission, similar to what attracted me to the armed forces years ago. That purpose/mission: keeping the air and soil cleaner for future generations, ensuring my son and future generations get to enjoy the profound views of glaciated peaks in the Rockies and Cascades and the pure joy of skiing or snowboarding down a snow-covered hill.
What advice would you give to a veteran looking to join the clean energy industry? Engage with other veterans that have already made the pivot to the industry. As a starting place seek out companies that have made commitments to hiring veterans or have made publicly visible any sort of internal affinity group that focuses on veterans. Also, I highly recommend utilizing benefits earned such as the Post 9-11 GI Bill and/or Veterans Readiness and Employment program to refresh education or vocational skills and get them more calibrated to the clean energy industry. ​​​​​​​
Why is it important that companies commit to hiring veterans? Veterans bring a unique set of background, lived experience, and training from their previous career in the armed forces that provides diversity to teams and organizations that strengthens them, just as other underrepresented groups have been proven to do in numerous studies. For this reason, veterans should be a part of all companies' Diversity, Equity, and Inclusion (DEI) efforts. Furthermore, the thriving business environment that we have in the U.S. is a direct result of the legacy of veterans that served, fought, and died for this country. Companies can thank veterans and honor that legacy by putting an effort into hiring them as they transition out of uniform.
What does Veterans Day mean to you? Veterans Day is a day to reflect on the sacrifices and contributions that members of the armed services and their families have made to serve their country but more broadly global society. I think about the close friendships I made in the Coast Guard and about many of those still serving. I also think about both of my grandfathers that served in WWII and the Korean War and the remarkable economic transition that occurred in the US in the aftermath of those two wars when those veterans returned home.