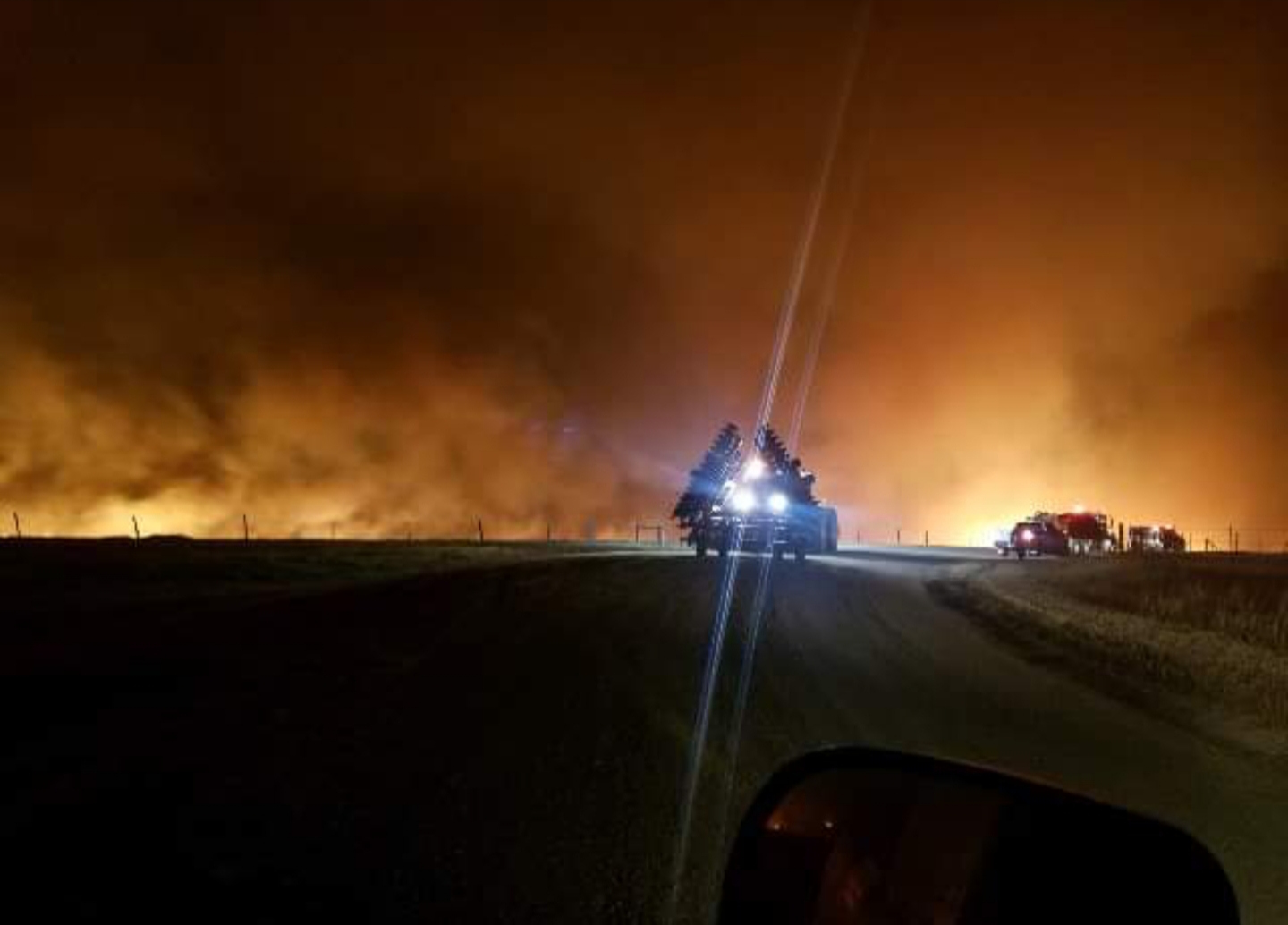 Members of the Wheatland County Volunteer Fire Department helped to fight fires in Montana last February.
On a planet with increasingly extreme weather, we're seeing catastrophic droughts and record-level heat that in turn has lead to an ever-growing number of wildfires across the US each year. Our colleagues at the 135-MW Judith Gap Energy Center in Montana have seen these fires firsthand, a terrifying sight that reinforces the dire need to combat climate change and for more sustainable energy solutions worldwide.
Through Invenergy's Impact Program, the Judith Gap team regularly donates to the Wheatland County Volunteer Fire Department, which relies on donations to keep themselves afloat. The department is the first to respond when a fire breaks out in the region near Invenergy's project, and the Department also helps with proactive fire-fighting measures like building fire lines to help farmers protect their property.
"They're our only resource if we need some help," says Judith Gap Administrative Assistant Mary Beth Bennett. "These people need to leave their full-time jobs when they have to go out on fire or medical calls. They can use whatever donations they're able to get."
Montana, like much of the western United States, has been devastated by wildfires that have burned thousands of acres and led to evacuations of towns. Members of the Wheatland County Volunteer Fire Department are currently helping to fight fires that are burning around 30 miles from Judith Gap in the Crazy Mountains. Recent rains provided some relief, but Judith Gap's Operations & Maintenance Manager Michael Prater says the dry season has been starting earlier and earlier each year, with record-breaking temperatures creating tinderbox-like conditions throughout the state.
"There were lots of fires in 2017, but this year seems much worse," Prater says. "Lots of old-timers in the area are saying they haven't seen so little moisture as long as records have been kept. It seems like we're passing even the Dustbowl levels, and the season is just getting started."
The Judith Gap site had a close look at wildfires in recent years, when two fires crept onto the wind farm's property. Fortunately, there was no damage to the wind energy center, but the proximity gave the team an up close and personal sense of the awesome destructiveness of the fires.
"There's no stopping it – fire like that, you just get out of its way," Bennett says.
Widespread implementation of sustainable energy is one way to help address the climate crisis and its devastating effects like wildfires, and Invenergy remains dedicated to developing innovative clean energy solutions that will help us reach this goal of building a more sustainable world. Our project sites will continue to implement measures to minimize the risk of fire, such as conducting regular drills with local fire departments and emergency responders to prepare for emergencies at wind and solar farms.
In 2020, all services employees across our operating sites received 61.75 hours of safety training, and we had 25,317 hours of safety training fleetwide. These hours of safety training, partnerships local Emergency Medical Services, and passion for keeping their communities safe are what help Invenergy Services employees stay well-equipped to deal with the unexpected. To learn more about Invenergy and our community engagement efforts fleetwide, read the
2020 Invenergy Impact Report
.