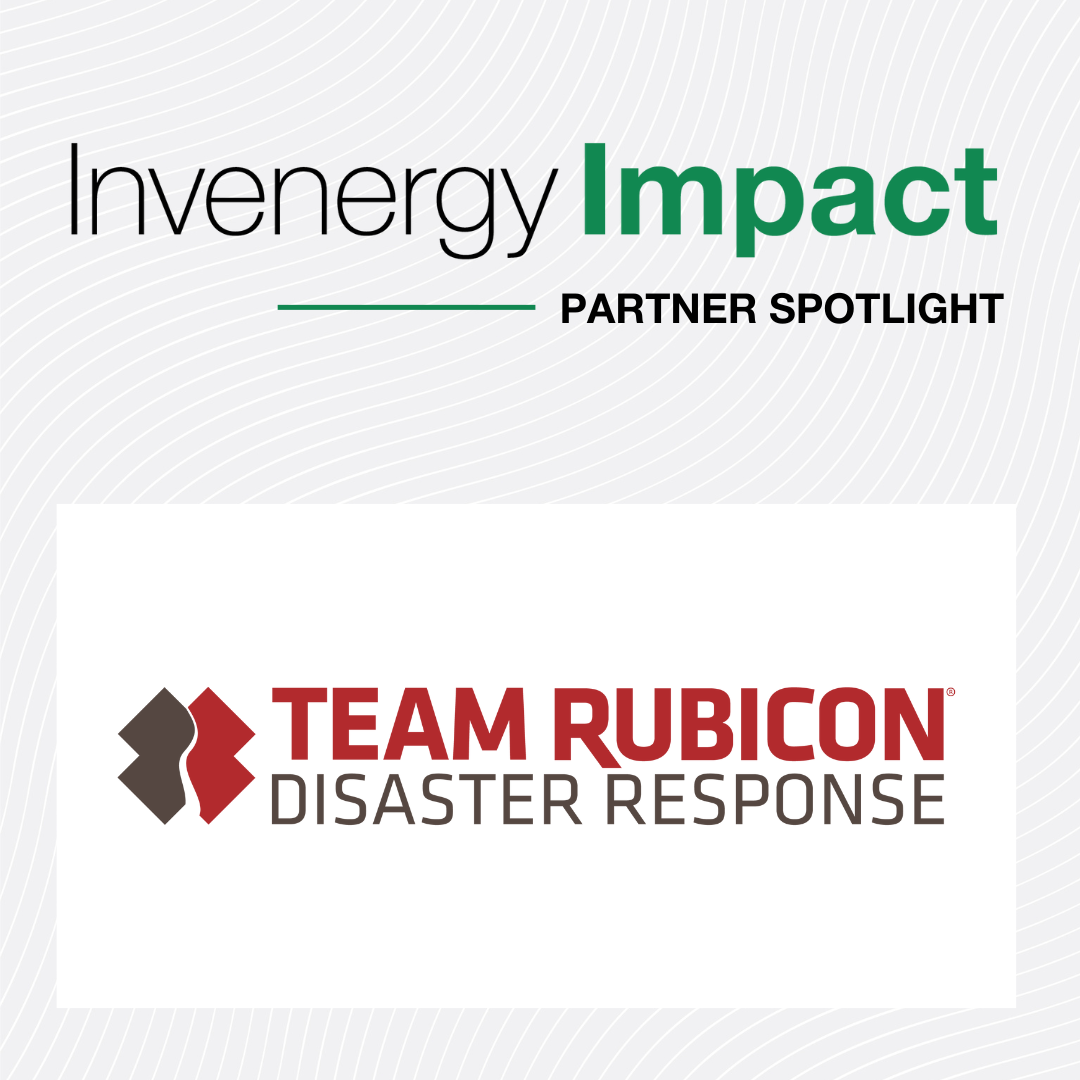 Invenergy has a long history of supporting initiatives that assist U.S. military veterans, including our focus on recruiting and enhancing the professional experience of veterans within the company. To celebrate National Military Veterans and Families Month this November, we're proud to feature several veterans at Invenergy in our internal company-wide newsletter, our social media accounts, and on the Invenergy blog. Across our corporate offices and operating sites, we hosted appreciation events for those who served in the communities where we live, develop, work and operate. To showcase one of the many ways military veterans interact and improve our communities, we're proud to spotlight Team Rubicon as our November Impact Partner.
Team Rubicon is a nonprofit disaster response organization that mobilizes veterans and civilian volunteers to help people prepare for, respond to and recover from disasters and humanitarian crises in the U.S. and abroad.
Founded following the Haiti earthquake in 2010, the organization has grown to more than 150,000 volunteers across the United States and has launched over 1,100 operations domestically and internationally. Its recent activities include providing support to areas affected by Hurricane Ian in Southwest Florida, continued support in Ukraine, and helping communities in Golovin, Alaska, recover from Typhoon Merbok.
In 2020, our Invenergy Veterans Network (IVN) hosted a fundraiser where colleagues sold branded masks to keep friends and coworkers protected from COVID-19, and all proceeds were donated to Team Rubicon. Since then, our relationship with Team Rubicon has grown, and we've engaged with them in several ways. In 2021, Invenergy provided a donation towards Team Rubicon's general disaster relief efforts. Members of IVN and veterans Brad Purtell, Vice President, Third-Party Services, and Frank Santiago, Director, Operations Support Systems, became Team Rubicon "Greyshirts" and volunteered to help families in Gibson City, Illinois, affected by flood damage.
"My time in the military instilled certain qualities and attributes that are long-lasting, and these qualities have shaped the way I think and work," Santiago says. "Our deployment with Team Rubicon served as a reminder of the camaraderie and sense of purpose that allows us to carry out the mission of restoring communities and peoples' livelihoods."
This year, we continued our support through Team Rubicon International's humanitarian relief efforts in Ukraine. Days after the conflict, volunteers were deployed to Europe and moved into Western Ukraine where they helped folks at hospitals and field clinics. To support their efforts, Invenergy hosted a fundraiser where every dollar donated by Invenergy employees was matched by the company. In total, more than $21,000 was raised by employees. As hurricane season began, Hurricane Fiona touched down in Puerto Rico and Hurricane Ian landed in Florida weeks later. Both damaged homes, businesses, and infrastructure, but Team Rubicon volunteers deployed immediately to help with debris cleanup and home repair. Invenergy donated $15,000 to support Team Rubicon in both regions, and we look forward to continuing to support their future community relief efforts
We thank Team Rubicon for their continued partnership and dedication to supporting communities in need and we thank all veterans for their service during active duty and after.