Why is there so much excitement about solar energy in America's heartland?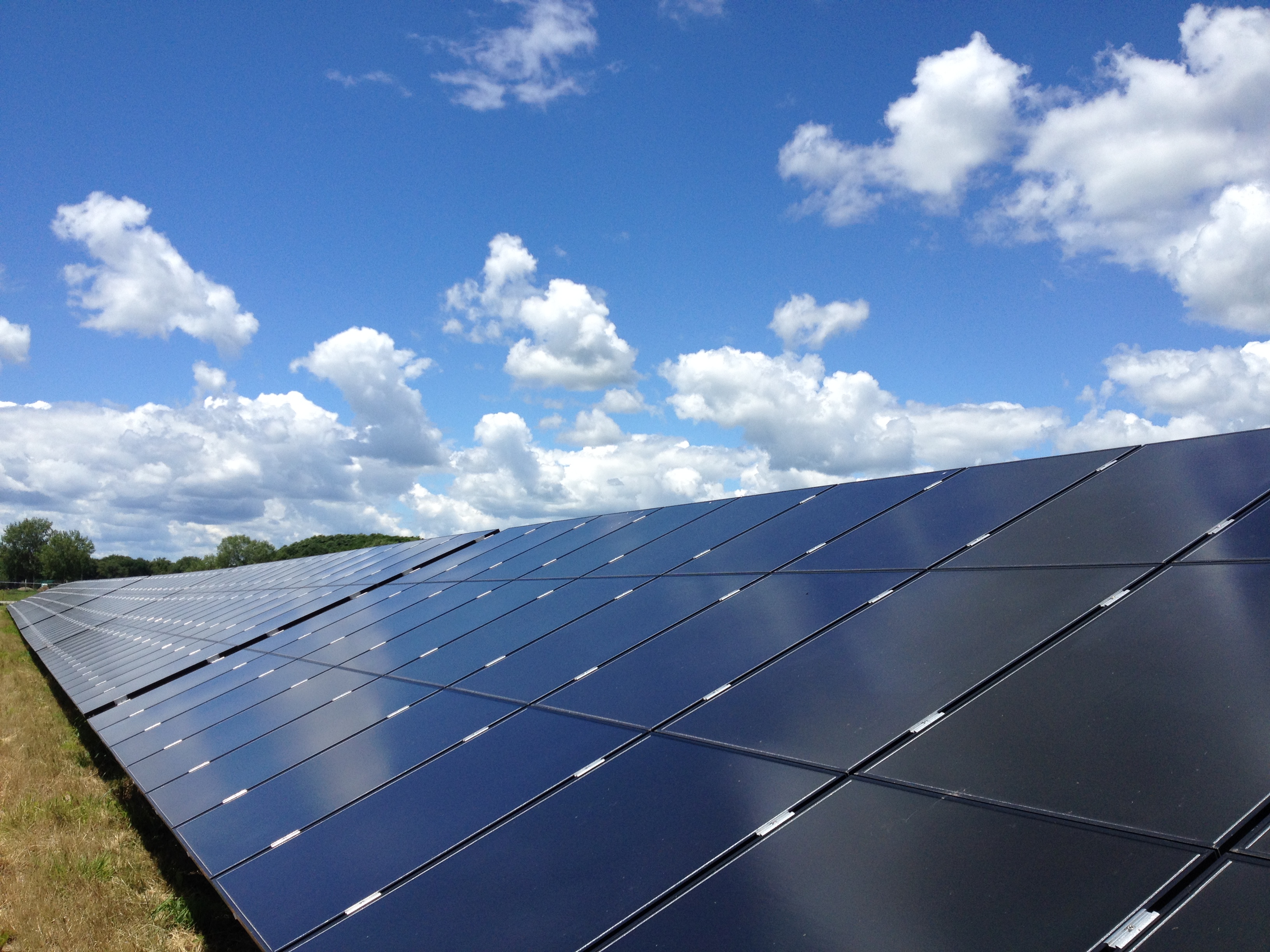 Our 20-MW Grand Ridge Solar Farm in Streator, Illinois
The Midwest is known for its friendly people, hearty meals, and classic accent, but also it may soon be known for solar energy. The open fields of states like Iowa, Indiana, Kansas, Wisconsin, and Ohio are ideal for harnessing the power of the sun, with state policies changing to encourage renewable projects and large businesses and retailers throughout the region pledging to derive more of their energy needs from carbon-neutral sources.
Solar energy provides affordable, clean energy throughout the region and benefits the landowners and communities that host these projects, all while preserving the agricultural traditions and character of the Midwest. As 'Big' Dave Johnson, a landowner in Iowa with 400 acres under lease to an Invenergy project, says, "Solar energy is just another form of farming – you're farming the Sun."
Sun and the Midwest
People are often surprised to discover that the solar resource is so robust in the Midwest, as it is not a part of the United States that is known for begin particularly sunny. Solar panels are designed to soak up as much sun as possible, and most solar arrays are outfitted with tracking systems that follow the daily movement of the sun, taking maximum advantage of available sunlight. In fact, on average, the Midwest receives more sunlight than Germany, a country that boasts one of the highest rates of solar power production in the world.
Solar technology has advanced greatly in recent years, with panels becoming more efficient and lower in cost all the time. And while the Midwest is known for its intense winters, sunny winter days with snow on the ground are excellent for solar farming. Many solar arrays use panels that can soak up the sun on both sides, allowing allow panels to not only harness the direct power of the sun but also the light reflecting off snow cover.
Additionally, solar modules are sturdily constructed of aluminum and tempered glass designed to withstand hailstorms, strong winds and other kinds of extreme Midwestern weather.
Benefits for farmers and landowners
Wind energy is very popular in the Midwest, with Iowa second only to Texas in the percentage of state energy derived from wind power. The increasing popularity of wind energy has led to the development of infrastructure that can likewise be utilized by solar projects. Importantly, both forms of energy provide substantial lease payments to the Midwestern landowners who host projects on their land. Bob Bishop, a landowner in Wisconsin with 400 acres leased to the under-construction 300-megawatt Badger Hollow Solar Farm, says the partnership with Invenergy helps to ensure the land stays in the hands of local families for the coming years.
"A lot of people think farmers are rich, getting government subsidies and driving quarter-million-dollar tractors. But the reality is that this isn't the case," Bishop says. "The opportunity to realize a steady, stable contractually-locked profit [from solar farming] on a portion of my acreage in these continuing times of low commodity prices and global commodity market saturation is simply good, sound, agricultural business."
Additionally, the growth of solar in the Midwest has supported
almost 17,000 jobs
for the region since 2012 with compensation that often exceeds similar construction jobs in other industries.
"These are well-paying jobs with longevity," says 'Big' Dave Johnson. "These are jobs for local people that allow you to live in your small town and be around your families." Moreover, he touts the benefits of solar projects for local economies; solar projects bring in new tax revenue that goes toward schools, infrastructure, and other community needs.
Solar energy is compatible with agriculture
As solar has grown, there has been an increased focus on how to ensure its compatibility with crop production. But, according to Renew Wisconsin, only one percent of Wisconsin's land would be needed to meet all the state's power needs. And, as opposed to residential or commercial development, land used for solar can be easily converted back to farmland once the project reaches the end of its lifespan.
Bob Bishop says working with solar projects is just a matter of taking advantage of the new opportunities that come your way, just like previous generations implemented innovations outside the norm of what might be considered traditional farming practices. In other words, he says, "The game is constantly changing, and you need to be able to change with it."
Farmers are already using their land to produce energy by growing corn to produce ethanol, Bishop says. In fact, approximately
37 percent of corn grown in Wisconsin
goes to ethanol production. As Renew Wisconsin notes, when evaluating land use on a net-energy-per-acre basis, solar projects come out ahead: an acre of corn produces enough ethanol for an E15 vehicle to travel about 11,000 miles whereas one acre of solar power provides the equivalent of 715,000 miles of electric vehicle travel.
Midwestern farmers have also touted the benefits of solar farms in reinvigorating soil. A typical solar farm involves planting perennial, deep-rooted grasses and flowers under and around solar modules, creating natural habitats that encourage soil health and minimize runoff and erosion, setting the stage for future agricultural productivity. Careful planning for vegetation will also benefit surrounding crops by attracting pollinators, promoting biodiversity and environmental health.
***
Solar power is a smart, common-sense choice for Midwest, and Invenergy is proud to help bring cutting-edge solar energy to the area for the benefit of the region's farmers, families, and communities.